Why Security Is The Best Investment At Money&Co.

---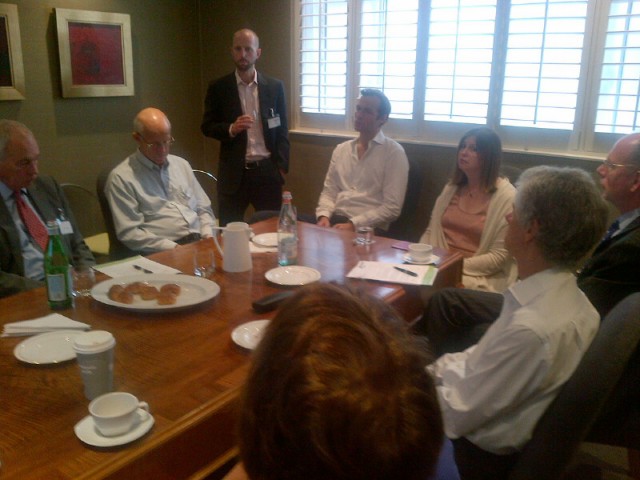 One of the reasons we believe Money&Co. has the best loan crowdfunding offering in the UK market, is the quality and rigour of our credit analysis. Here, Money&Co. asks questions of one of the questioners-in-chief, Toby Furnivall (pictured above, standing, at one of our lender breakfasts). Toby is a senior member of our credit analysis team.

M&C: At Money&Co. our credit model means we always insist on taking a debenture over the businesses that we arrange loans for. But what does this mean for lenders?
TF: When arranging loans on behalf of our lenders, we want to ensure that their interests are protected as securely as possible. Debentures are a common method of obtaining security, under which our Lenders are typically granted both fixed and floating charges over all of a borrower's assets and undertakings.
M&C: Thanks for that. But what exactly is a "debenture"?
TF: A debenture is a registered charge, filed at Companies House, over all of the Borrower's assets. It gives Money&Co., acting on behalf of all the lenders in the loan, the right to all of the assets of the borrower in the event of a default on the loan.
M&C: Could you explain the difference between fixed and floating charges?
TF: The key distinction between a fixed and floating charge is that a lender has control of the assets subject to a fixed charge, whereas the borrower retains control over those assets, subject to a floating charge.
M&C: When are these different types of charges typically used?
TF: Fixed charges are typically granted by a borrower over assets such as freehold and leasehold properties, and fixtures such as plant and machinery if these are owned by the borrower. Fixed charges can also be granted over book debts, uncalled capital, goodwill and shares.
A debenture will also typically include floating charges over present and future moveable assets such as stock and unsecured fixtures. Floating charges are less attractive to a lender than fixed charges as they rank behind preferential creditors and certain other creditors in the event of a default by a borrower. The borrower is also able to deal with the assets subject to the charge in the ordinary course of business, by selling stock for example, without obtaining the lender's consent, subject to any restrictions to the contrary in the debenture itself.
M&C: Is there a specific advantage for lenders by Money&Co.'s insistence on taking debentures?
TF: Yes, there's a considerable advantage. We insist on taking the debenture to protect our Lenders in the event of a Borrower not repaying the loan. In the event of a borrower not repaying a loan, the debenture allows Money&Co. to take certain legal steps in order to attempt to maximise the amount of money that can be realised from the assets in the business. The debenture gives Money&Co., and our lenders, a preferred position against the borrower's other creditors.
M&C: So is it fair to say that there's an extra degree of safety for lenders because of this?
TF: Yes, we take an extremely conservative view in our credit analysis process – but bear in mind there's always risk inherent in any loan. A debenture acts as a safety net if the unforeseeable happens. It should be reiterated that Money&Co. carries out extensive credit analysis before proceeding with any loan applications and therefore we expect a low bad debt experience. However, the debenture provides our lenders with the extra layer of security to ensure a maximum return should a borrower run into financial difficulty.
To learn more about lending, click here for text and video explanations. To start the process of registering as a lender, click here.
For a fuller explanation of risk and our credit model, click here.
---
---