British Business Gets "Bank Of Vince" Boost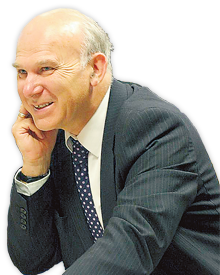 Signs of life at the "Bank of Vince"
The British Business Bank (BBB) is at least partly the brainchild of Secretary of State for Business, Innovation and Skills, Vince Cable. As a consequence it is known amongst a few wags as The Bank Of Vince.
But what ever you call it, the new state-owned bank, which was announced at the end of 2012 and set up nearly a year ago, is trying to make a substantial difference to the way small businesses can get funding. Backed by a five-year government funding commitment of £4 billion, it claims to have already delivered £876 million of new lending and investment to small and medium-sized enterprises (SMEs).

As the Telegraph reports, most of this is lending, offering SME loans through its private sector partners ranging from £5,000 to £1 million, and averaging £50,000, to enable them to buy equipment, launch new products or increase distribution.
Keith Morgan, chief executive of the BBB, states that the Bank is not a competitor to other British banks but wants to work with them, boosting the activities of new operators as well as offering guarantees to extend the reach of traditional lenders.

The latest trade outlet to cover Money&Co. CEO Nicola Horlick's comments on the Funding for Lending figures released last week is startup.co.uk, an outlet that services start-up businesses, investors and entrepreneurs.
"Nicola Horlick, CEO of alternative finance platform Money&Co, said: "Today's figures show that UK SMEs are still starved of the finance they need. Despite efforts to boost business lending through the Funding for Lending scheme, these latest figures reveal that the banks are still not doing enough to give SMEs adequate funding.
"Access to finance is the basic test of our economy's ability to support growth. However, the traditional financial establishment continues to deprive SMEs of the funding they need, and UK businesses continue to struggle.
"Alternative finance, such as person-to-business lending, not only supports UK businesses, but also gives UK savers a new way to make their money grow."
To learn more about borrowing with Money&Co., click here. Prospective lenders click here. The risks of lending are detailed here.
---
---