Money&Co. Crowdfunders Coming To A Market Near You

---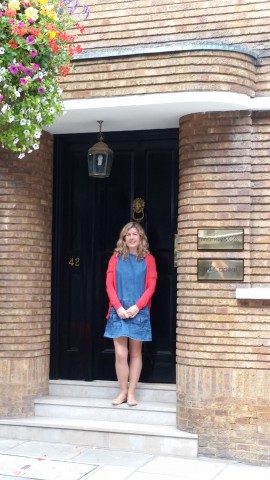 Business development has something up its sleeve...
Money&Co.'s head of business development, Rachel Green, is a key member of a team that's hitting the road this autumn. The weeks ahead promise a long series of breakfasts, lunches, and media meetings as Money&Co. raises awareness of what crowdfunding has to offer businesses and lenders alike all around the country. And, mixed in with the meeting and greeting, apparently she has a secret plan...

Money&Co.: The road show is basically a moving talkfest, isn't it?
Rachel Green: You can say that if you want to. I couldn't possibly comment! Except, of course, I can... We think personal contact is really important. Yes, the internet is a great liberator, and it's helping us take middle-men out of the finance equation, because it's efficient and transparent and all those things. That's why we're so much more efficient and agile than the banks. But personal contact really matters. It's important that businesses and lenders outside London see that we're real people who are passionate about funding good small and medium-sized businesses, and improving on the miserable return savers get from banks and building societies by providing good yields on loans to high-quality businesses.
M&C: So this is the internet with a personal touch?
RG: Yes, it is. We are the people behind the online interface. We're meeting local companies, accountants, chambers of commerce – and lenders and investors. That last group's especially important to me personally.
M&C: A case of computer says "yes"?
RG: We don't always say "yes". We have a fantastic credit-analysis team, for example. If we turn down a would-be borrower, it's the team that says "no". We use the medium of the internet to streamline the process, but we're a real, hands-on company. So lenders can take comfort in the fact that we really do our best to get to know our borrowers. The road show is a way of getting this message, amongst many others, out to the country at large.
M&C: There's talk that you have a secret weapon in the marketing armoury. What is it?
RG: Well, it wouldn't be a secret if I told you! All I will say is this: we're out and about in Oxford, Birmingham, St Albans, Bristol, Manchester, Liverpool, Cambridge, Leeds and York over the next few weeks. And the other journey we're going on is to the end of the rainbow! Money&Co. members and users will find a very exciting and fun series of events facing them this autumn.
M&C: Come on, you have to tell us more than that!
RG: Actually, I don't! Just watch this space. Exciting times lie ahead.

*** Learn how to lend with Money&Co. by clicking here.
*** The Money&Co. team is in Oxford on Monday, and in Birmingham on Thursday. You can book places for the (free) event in Bimingham - held in association with FD Solutions - by visiting our earlier story on site and following the links.
*** We are in London on Tuesday at the Alternative Fiannce Awards. Please do vote for Money&Co. in the People's Choice awards by clicking here.
---
---