Money&Co. Spreads Word In Birmingham As SMEs Walk From "Bad Deal" Banks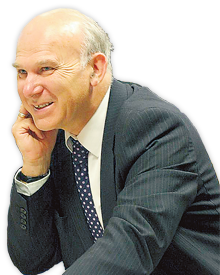 Vince Cable knows a bad deal when he sees one
The second city is the centre of the Money&Co. universe today. A senior team of Money&Co. executives, led by CEO Nicola Horlick, is on a mission to spread the crowdfunding word in Birmingham.
The message is simple: we bring people and businesses together. Individual savers and investors have received miserable returns on their bank and building society deposits in recent years. And banks have systematically failed businesses – especially small and medium-sized enterprises (SMEs – see story below) by refusing to lend much-needed capital. Money&Co. offers lenders a much better return than current deposit levels, and is an efficient and cost-effective facilitator of finance for our borrowing companies.
Part of the problem is a lack of awareness on both sides of the lender-borrower equation – especially amongst borrowers: Nicola Horlick puts it this way: "Awareness of the various sources of finance is still too low among small and medium-sized businesses, and events such as this are key to making sure that businesses know where to go for finance."
 Small firms have walked away from banks because of 'bad deals' – Vince Cable, Business Secretary
The event, co-hosted with FD Solutions, is being held tonight at the Hotel du Vin, 25 Church Street, Birmingham, from 6pm to 8pm. Click here to get a ticket.
On the lender side of the equation, Money&Co. hosted an excellent, highly stimulating breakfast for potential lenders at our Mayfair offices yesterday. We'll bring you detail of the round-table discussion later in the week.
And as for borrowers… It seems that the UK government's patience is wearing very thin indeed with the banks, and their refusal to lend to business.

The Daily Mail relates the story in a way designed to create tension between Conservatives and Liberal Democrats – but our focus is on the fact of Business Secretary Vince Cable's angry pronouncment aimed at bank lending (or rather, non-lending) policy.
The Mail reports that Mr Cable has "claimed the 'route of using big institutions didn't work' and said there was still a 'lot of frustration with the big banks'.
"Singling out state-backed Royal Bank of Scotland, he said that five years after the financial crisis small companies are still being starved of cash by lenders which were bailed out by British taxpayers.
"'The restriction on credit that followed the financial crisis is a problem that has persisted to this day,' he said. 'Five years after the crisis, we still have more money being taken out [of small business lending], by Royal Bank of Scotland in particular, than being put in by Lloyds, Santander and some of the new challenger banks.'
"Mr Cable's comments came at an event to promote the Government-backed British Business Bank, which provides state support for 'challenger banks' and other alternatives to the main High Street lenders."
The Mail goes on to report figures that tell their own story – and  what a depressing tale it is for SMEs.
"While the banks have benefited from a glut of cheap cash, net lending to small and medium-sized firms continues to fall. Net lending is the amount lent minus repayments.
"Latest figures from the Bank of England also show net lending under the Funding for Lending Scheme slumped by £1.2billion in the first half of the year. This has been driven by a £1.1billion fall at RBS, which received a £46 billion bailout from taxpayers in 2008.
"Mr Cable said many small firms have become so exasperated they have 'walked away from the banks' because they were 'given a bad deal'."
---
---