Money&Co. Breakfast: Lenders Get Coffee, Croissants, And New Levels Of Awareness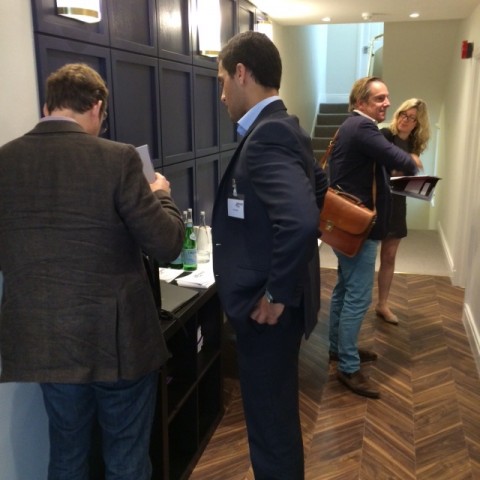 Lenders leaving our Bruton Place offices after coffee, croissants and credit analysis
This week's lenders' breakfast at Money&Co.'s Mayfair offices was an engaged and engaging affair.
The senior members of the Money&Co. team were all there. CEO Nicola Horlick gave a short talk about our business – using state-of-the-art technology to create funding for our borrower businesses and good returns for the people who fund them.
After Nicola's presentation, the lenders asked a series of questions, and an enjoyable and interesting debate ensued. Some of the topics were financing in general, the need to raise awreness amongst lenders and businesses of the existence of crowdfunding, lending policy, and security and risk assessment processes.
Toby Furnivall, a senior member of our credit-analysis team, was one of those engaged in the debate: "It was a really useful and interesting breakfast," he said. "We were pleased to welcome another diverse set of lenders, ranging from investment bankers and lawyers who work in mainstream finance, to retired teachers with an acute interest in the savings market. The breakfast was further proof that crowdfunding is a vibrant, growing sector." 

Money&Co. is making serious efforts to raise the awareness levels Nicola spoke about at breakfast. We're making a splash in the trade press, as well as the nationals (see this blog in The Independent) and the regionals. But getting the message across is a tough job, as a well-observed piece in Marketing Week has just pointed out: "Any brand associated with money must build consumer confidence, especially when it is involved in a relatively new market. Well-known former City fund manager Nicola Horlick is now CEO of crowdfunding business Money & Co, which has devised a content-led marketing strategy with digital agency MBA.
"'A lot of brands assume their audience has financial knowledge but many businesses are talking about subjects people do not understand,' she says. 'There is a group of people who want to save and invest but need guidance.'"
"The news and blogs produced with MBA talk about backing businesses through crowdfunding and subsequently drive traffic to the Money & Co website. Horlick believes that delivering informative content encourages people to return to a brand time and again. 'You will only be trusted in a complex market if people clearly understand what you stand for. In our case they need to be told in an engaging way how the lending process works.'"
A practical case in point is our latest offering, the Mar-Key Group. This A-rated company has an easy-to-understand business: it does marquees and temporary structures at sporting events, weddings and trade fairs. The loan, currently offering an indicative yield of around 8 per cent, is to fund growth. We have had more than £20,000 bid in the last two days as lender interest mounts. Find out more about the loan here. To learn more about lending in general, click here and watch the short video.
---
---