Crowdfunding's Talkfest With A Twist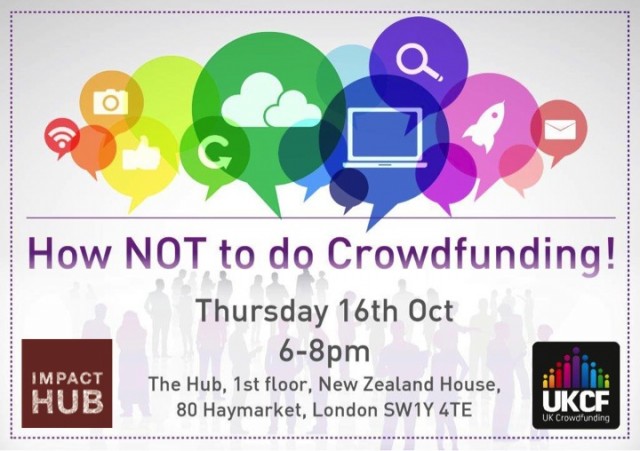 The crowd gathers for a series of confessional tales in Haymarket
Tonight promises to be a fun evening, as crowdfunding comes to London's West End.
It's a talkfest with a twist, hosted by the UK Crowdfunding Association (UKCFA). The UKCFA flags tonight up this way: "[Crowdfunding is]  a young industry, but fast-moving, and with more than 9 million members across all the different crowdfunding platforms in the UK, and more than 600,000 projects and businesses already successfully funded, between us we have already learnt a lot about what works and what doesn't work so well in the world of crowdfunding.
"So rather than have a conference where people show off about what they got right, we are only inviting people happy to share what they got wrong in their experience so far."
Money&Co. will be making a short presentation – or should that be confession? Other speakers include Impact Hub, the Royal Society of Arts, Syndicate Room, Shopwave,  and Angels Den. There'll also be talks and what's gone wrong when doing crowdfunding from a student, a business agent, and a management consultant.
We'll keep you posted!
*** And we'll bring you an update from a very well-attended and stimulating breakfast with the St Albans Chamber if Commerce tomorrow.
*** Meanwhile, don't miss the opportunity to look at our latest loan – Mar-Key Group has attained an A-grade credit rating, and the loan currently offers a gross indicative yield of more than 8 per cent. 
---
---