Crowdfunding Savers – No "Terrifying Possibility" Just "Decent Rates"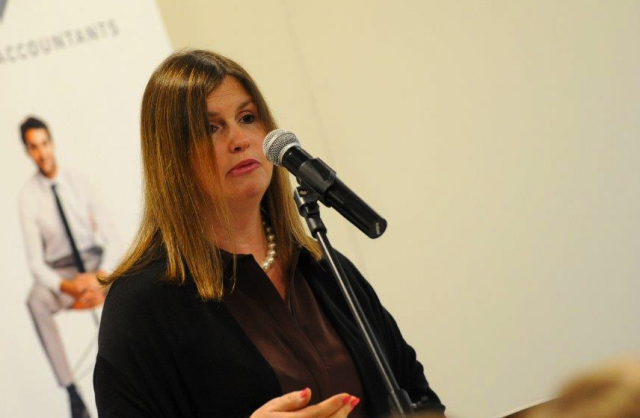 Geeting our point across – Money&Co. CEO Nicola Horlick spreads the word on crowdfunding 
The message is clear: low interest rates are creating huge problems for savers and investors dependent on deposit account yields (as reported here earlier). People dependent on income from annuities (fixed-income instruments that used to be an automatic accompaniment of a privately funded pension) face a similar dilemma.
The Telegraph's Katie Morley reports that things are getting worse, not better: "Hundreds of thousands of people relying on investment-linked pensions for their retirement income are facing the terrifying possibility that their payments might dry up.
"These are pension savers who were encouraged to use their pension pots to buy "with-profits annuities" – policies where their future income would be linked to the investment performance of opaque and complex with-profits funds.
"The performance of these funds has in some cases been poor. But what makes the situation desperate is that certain plans pay out a set income, regardless. And the level cannot be changed.
"So if for instance a policy is set to pay out 5pc each year, yet generates underlying investment returns averaging 2pc, investors' capital is eroded. This sets in train a vicious cycle of even lower future returns – and an even quicker erosion of capital."
But there is, of course an alternative. In this clear and informative guide on lending to save, Amy Andrew of ThisIsMoney says: "A new banking alternative is emerging into the mainstream as savers cast around for decent rates in an otherwise subdued market and borrowers dodge the squeeze."
"Lend-to-save websites, otherwise known as peer-to-peer firms, cut out the middle man (i.e the bank) to match borrowers with lenders – in theory a win-win scenario for both sides because each have access to better rates than they might otherwise find."
The guide has only one minor flaw, in our judgement – it was written before Money&Co. launched in late April! We're a peer-to-peer lending (P2P loan) site or a person-to-business (P2B) site. Our loans, made only to carefully vetted companies passing our stringent credit-analysis rprocess, have produced an average gross return of 8.2 per cent for Money&Co lenders. The latest offering on site is the A-rated Mar-Key Group, with an exceptionally good return (for such a highly rated company) of more than eight per cent. See more here.
For a further explanation for how it all works, see Nicola Horlick, our CEO, explain crowdfunding here.
---
---