Happy To Share: Money&Co. Welcomes New Media Stars

---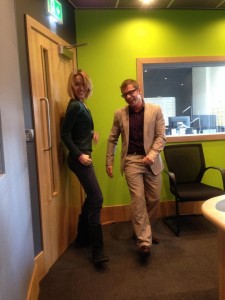 Share Radio presenter Georgie Frost in one of the stations custom-built studios in Pimlico, London
A very warm welcome to Share Radio, which started broadcasting this morning. This new business is so young that at Money&Co. we feel, with our six-month trading history, positively old!
Headed up by CEO Gavin Oldham, formerly of Barclays Bank, and a veteran of popularising finance, Share Radio will broadcast seven days a week, 24 hours a day. The team has a wealth of broadcasting talent, and promises lively and engaging coverage – including, of course, the fast-emerging crowdfunding peer-to- peer (P2P) and person-to-business (P2B) sector where Money&Co. lives.
A select team from Money&Co. went to a recent pre-launch party, and a good time was had by all – including Georgie Frost, one of the station's livewire presenters, pictured above.
"Share Radio is part of the process to bring knowledge and understanding about money to the general public," said Money&Co. CEO, Nicola Horlick. "We are all part of a wider movement to inform and empower the wider public by engaging with important, simple things like saving up. You can call it investing if you will. Everyone at Money&Co. wishes Share Radio great success."
*** Nicola was just back from a whirlwind trip to China, where she'd been on business. Her thoughts on China and its current and future impact on the global economy are available on her Huffington Post blog.
---
---