Bountiful Borrower Pipeline - And Treasure Trove - Ahead

---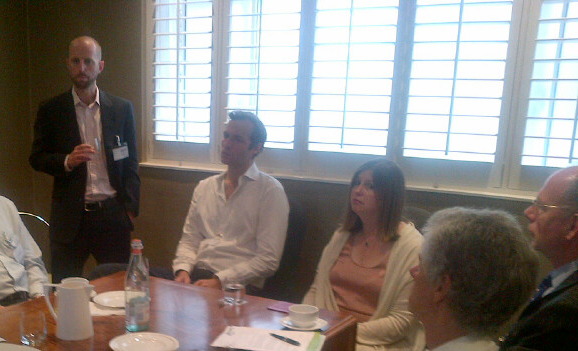 Credit analyst Toby Furnivall, left, speaking at a Money&Co. breakfast earlier this year
As a peer-to-peer (P2P) loan-based crowdfunder, Money&Co.'s business model will be familiar to regular visitors to the site: We bring people together with businesses.
After yesterday's look at a lenders' breakfast, today we bring news of the borrowers' side of the equation. We were pleased to announce the recent successful close of the first part of the Mar-Key Group's loan facility of £425,000 at an indicative yield of 8.2 per cent. Now, Toby Furnivall, a senior member of our credit-analysis team, reports on forthcoming borrowers and sourcing funds for those borrowers.
It's fair to say we have several exciting deals in the Money&Co. pipeline – but the detail is confidential ahead of formal approval by the Money&Co. credit committee.
Toby has also been looking at the sourcing of finance for our borrowers, once approved. You, the crowd, are a vital source of funds – but institutions, both public and private, want in on the deal.
"I recently went to a Local Enterprise Partnership (LEP) meeting in Oxford," says Toby. "It was an interesting insight into the different aims and attitudes between public- and private-sector organisations.
"The discussion majored on whether the money should be lent or injected into business support services to help management teams develop their skills sets and tools in order to grow their businesses successfully."
It would be improper to go into the detail of what was a confidential meeting, but the will to lend is out there. Moreover, it was interesting to see private-sector banks and organisations from many parts of the public sector all in the same room together, and all trying to get funds to the UK businesses that need funds to fuel their own growth and the UK's economic recovery.
*** In addition to the exciting deal flow in the Money&Co. pipeline, look out for news of our forthcoming Treasure Hunt. Someone will win £10,000 to invest! Watch this space...
---
---