Money&Co. Treasure Hunt: Are You Ready To Go?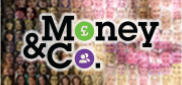 Find the gems and the codes – and you'll be in the hunt
Our £10,000 Fortune Finder competition will run for ten days, and will feature six hunt games. The first five games will take place over ten days, and have a £1,000 prize. The last hunt will be for the jackpot prize of an investment of £10,000.
Nicola Horlick, CEO of Money&Co. said: "The Treasure Hunt is a fun game, but it has a serious point: making money shouldn't be tough.  Those lending money to the carefully vetted companies borrowing on our site can make excellent returns on their cash relative to what they will get if they leave the cash on deposit."
The game is easily accessible on smartphones, tablets and computers as it is browser-based so you can hunt for the treasure wherever you are. We go live tomorrow, and the competition is free to enter. Watch this space!
*** Updates about the £10,000 Fortune Finder can be found on Twitter by following  @MoneyandCoUK and by using  #10grandhunt. Money&Co. can also be found on Facebook. Get your friends to join in by uploading a purple gem Twibbon onto your social profiles.
---
---