New Treasure Hunt Winner On Trail of £10k Grand Prize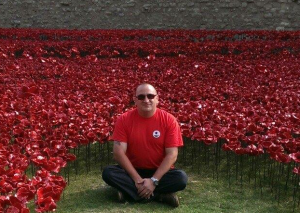 We are delighted to announce our second £1,000 winner in the mini-treasure hunt Money&Co. draw.
Congratulations go to Darren, from Epsom, who works in the aviation industry. Darren helped to plant the ceramic poppies at the Tower of London (he is pictured above, sitting amidst some of his handiwork). He discovered crowdfunding and the Money&Co. treasure hunt when he heard our CEO, Nicola Horlick, being interviewed by Clive Bull on LBC Radio last week.
The third mini-treasure hunt is underway. The draw for yet another £1,000 prize is scheduled to place at the end of today.
The grand prize of £10,000 will come at the end of all five mini-treasure hunts. All you have to do is play the previous games successfully and collect all five parts of the five-part code. If you start playing today, you'll qualify for today's mini-prize draw. But you'll still need the code from the first and second mini-prize draw to enter the grand prize draw. You won't win the first money from the first two draws – but you'll be in with a shout for the big one.
Start playing this fun, easy, and free-to-enter game now, by clicking here.
*** Money&Co. sent a small team to the Lend It conference in London's Bishopsgate today. Our CEO, Nicola Horlick, spoke at a well-attended forum on lending to small and medium-sized companies. We'll report in detail on that tomorrow.
---
---