LendIt Conference And £10k Treasure Trove Latest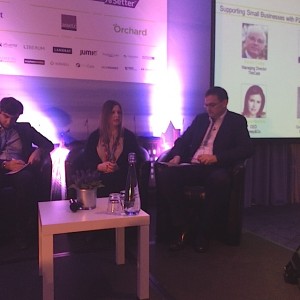 The LendIt conference in London's Bishopsgate produced some interesting debate, and further proof that crowdfunding has a rosy future.
A gathering of peer-to-peer (P2P) lenders (also known as person-to-business or P2B lender) generated lost of interesting talk – and the promise of some deeds that may benefit crowdfunders, businesses and individuals alike.
Nicola Horlick, Money&Co.'s CEO, participated in a debate on supporting small businesses with P2P lending. She spoke on a number of issues, including our favoured sources for facilitating loans to small businesses – individual money or institutional?
"It's good to have several sources of funds," she said. "Institutions are interested in having access to good-quality corporate debt. That's exactly what we provide at Money&Co., because we vet our potential borrowers very thoroughly, and protect the lenders' interests by way of a legal charge on the assets of the borrowing business. Individual, or retail, investors are right to find this model attractive too. Both types of lender are naturally pleased to get the excellent returns the borrowing businesses can offer."
There was some discussion of the role of institutions – notably banks – in our area. Crowdfunders – and Money&Co. in particular – pride themselves on being accurate in their credit assessments, and swift in their decision-making and execution.
One of the bigger players in the P2P lending market, which has recently hooked up with a biog bank, seemed to have some reservations (albeit diplomatically expressed ones): "I love our bank partners, but they're not the quickest in world to move," said one CEO during panel discussion. 
*** The Money&Co. treasure hunt rolls on! We will shortly announce the winner of our third £1,000 mini-treasure hunt.
Don't miss out – the grand prize of £10,000 will come at the end of this weeks. All you have to do is play the five mini-hunt games successfully and collect all five parts of the five-part code. There are no cash prizes for the mini-draws that have taken place, but If you start playing today, you'll qualify for the latest mini-prize draw. You'll still need the code from the first, second and third mini-prize draws to enter the grand prize draw. It only takes a few minutes, and it's free, and fun to play – and then you'll be in with a shout for the big £10,000 prize!
Start playing now – click here.
*** Last-minute offer: there are still a few seats left at Friday's 21st November's lender breakfast here at our Bruton Place offices. We like to think of them as a heady combination of coffee, croissants and credit analysis! Just use the "Contact Us" space on the top right-hand corner of the screen to apply for the last seats at the table.
---
---