Merry Christmas An Opportunity To Reflect For Savers And Lenders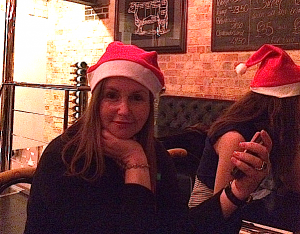 Money&Co. CEO Nicola Horlick, pictured above, has kicked us all out of the office in the name of festivities. But festive torpor notwithstanding, there's a snippet of real news this Christmas time. It offers an opportunity for readers, users, borrowers and lenders to take stock of where they are.
The Telegraph reports the arrival of a new savings account – one that, in our opinion, invites comparison with the rewards and risks of lending.
Secure Trust Bank has opened a new savings bond paying a top rate of 2.33 per cent for two years, says the Telegraph. Savers will not be able to access their money for the duration of the term. The account can be opened online, with a minimum of £1,000. However those who are interested in the bond should act fast as industry experts warn "competitive rates do not last long", and the writer remains cautious as to whether this signals positive movements in the savings market; whilst there has been "a little bit" of activity in the notice accounts and bond sectors and shorter terms have edged up slightly, the longer term accounts have come down.
Committing to a peer-to-peer business loan has its positives and negatives. We reproduce our brief analysis of points of comparison, from the summer. The links in the earlier article still work to provide the latest rates on offer.
Security – The extra security of the FSCS may be very attractive to some. The guarantor of up to £85,000 of deposit is effectively the UK government. Money&Co., while licensed as an independent financial adviser and answerable to the Financial Conduct Authority, does not offer such security. But we do ensure that a debenture, a legal charge, is taken on our borrowing companies' assets to protect our lenders. And of course our credit-analysis is very rigorous.
Access – Do you need access to your cash in the short term? If so, the fixed-term provisions of the deposit accounts may seem onerous. Money&Co.'s loans can be for as short a term as one year. Most are longer, with a maximum term of five years. But if you want to take your cash back early, you can do so using our recently launched auction market. This means that you can sell your loan at any time to another Money&Co. lender.
Yield – Deposit accounts are linked to long-term interest rates, which are a lot lower than the yields offered by our borrowers. Money&Co. has successfully hosted the funding of several companies rated a B+ risk, with loan yields of more than 8 per cent.
We are very proud of our credit-analysis process, but point out that there's no profit without risk. Find out more about lending here, and the credit -analysis process and associated risks are detailed here. 
We'l be back on 27th December. Merry Christmas!
---
---