Crowdfunded P2P Loans Promise An Excellent Year Ahead – Nicola Horlick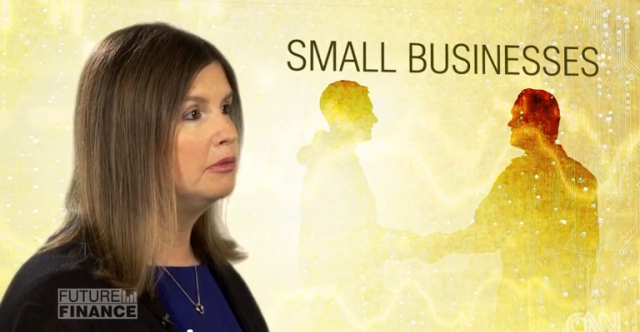 2015 is set to be a big year for businesses looking for capital and individuals looking for excellent returns, according to Money&Co.'s CEO, Nicola Horlick.
"The stage is set for strong growth in peer-to-peer (P2P) business loan crowdfunding," she said. "That in turn means the prospect of strong growth for companies seeking the capital that the banks can't or won't provide. On the other side of the equation, our lenders stand to make good yields on their loans.
"While it's fair to say P2P business loans are not directly comparable with bank deposit accounts, the fact is that our lenders have achieved an average gross yield of over eight per cent. That compares with returns of around 0.25 per cent as a standard savings offering from mainstream banks."
"Lenders should consider access, security and yield before making up their minds about what to do with their capital."
We set out the basics in a previously published Money&Co. article. For detail read this.
The Mail On Sunday has just published a piece that confirms Nicola's opinion: "Alternative finance businesses, which find backers for small companies that can't get bank support, are almost doubling every year, having reached a £1 billion milestone for lending in 2014, according to one of the industry's leading figures."
The newspaper quotes Louise Beaumont of AIM-listed GLI Finance as saying that the sector is so big it may even have to change its name.
"If 2014 was the year that alternative finance came of age, then 2015 is the year that it will finally shake off its prefix of being alternative," Ms Beaumont said.
'The industry has evolved at a rapid rate with the estimated size of the UK alternative finance market in 2014 at £840million and the year on year growth rate at a staggering 90 per cent.
'There is no doubt that the demand for alternative finance will grow dramatically in 2015 as more and more SMEs realise the potential and benefits of alternative finance providers.
'This global surge is already happening. The Bank of England's Funding for Lending figures already reflect this shift with 2014 figures showing a decline by £400 million of bank lending to SMEs against an estimated £1 billion in business finance to more than 7,000 small and medium-sized businesses within the UK alternative finance market.'
*** Check out the latest loan offerings, with yields of over 10 and 11 per cent. For more on the risks of lending, click here.
---
---