Crowdfunding Platform Widens Intelligence Net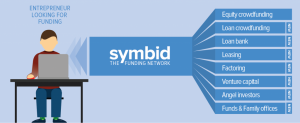 Symbid, a crowdfunding and analysis platform based in Holland, is set to revamp its take on crowdfunding. The platform originally focused on helping entrepreneurs find equity investors for their start-ups. But it seems the editorial remit is changing, to include more than just equity, but also debt funding.
"When it comes to funding, one size doesn't fit all – different types of funding are suited to different types of businesses depending on their situation. Symbid now connects entrepreneurs to various types of funding," says the site, which promises to roll out its new offering in the middle of next month.
Symbid is absolutely right about different types of funding being required for different companies. Money&Co. believes that the peer-to-peer (P2P) business loans we facilitate – also known as marketplace lending – is ideally suited for more mature businesses. We facilitate loans for borrowers with at least three yeas' filed accounts, and a string track record of profitability.
Our objective is to bring businesses seeking capital for growth together with people looking for a better return on their cash. We look forward to the new Symbid offering. The young crowdfunding market, with all its diverse sectors, needs more accurate analysis and reporting.
*** Lenders should bear in mind that lending money carries risk with it. Please see the risk warnings on our Home page. For more detail of the process and the risks associated with it, see our Frequently Asked Questions.
---
---