Liverpool Calling. Report From Merseyside

---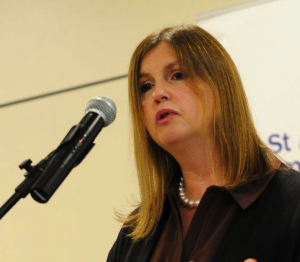 The Money&Co. team have returned from a successful visit to Merseyside. CEO, Nicola Horlick, was accompanied by Chief Lending Officer, Toby Furnivall and Business Development Director, Rachel Green. They were kindly hosted by Professional Liverpool and the West Coast Investor Network and had the opportunity to meet a broad spectrum of businesses, investors and advisers from across the region. Nicola spoke at a crowdfunding round table venue at Sci-Tech Daresbury and a Knowledge Economy Business Breakfast at Liverpool Science Park. She also addressed a West Coast Business Angel Dinner in central Liverpool and a Professional Liverpool networking lunch.
There was huge interest in and enthusiasm for crowdfunding as an alternative source of finance for small and medium sized companies. The Money&Co. team spent time outlining and clarifying the different types of crowdfunding and discussing the options available to companies at different stages of evolution. Securing growth capital was very much on the agenda and this is supported by the findings of Lord Young's small business report, published yesterday and heralded by Keith Morgan, Chief Executive of the British Business Bank, in CityAM this morning. Britain is now officially ranked as the most entrepreneurial country in Europe and 46% of SMEs are looking to expand next year.
The Money&Co. team look forward to returning to Merseyside and continuing to welcome both borrowers and lenders from the region.

Before committing any capital, potential lenders should be fully aware of the risks of lending. See the risk warnings on our Home page. See also the detailed statements of risk in our Frequently Asked Questions.
---