A Golden Rule Of Crowdfund Lending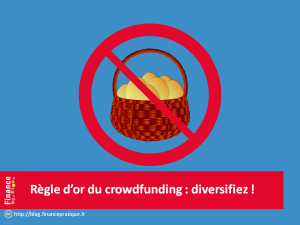 The recent Cambridge University and EY report, benchmarking alternative finance across Europe, has had us all at Money&Co. looking in greater detail at the crowdfunding scene abroad.
We found some excellent commentary, and a witty graphic, from our friends across the Channel in France. This article [in French] makes several sound points. The most important, as the graphic suggests, is that it's important to spread your risk – and not put all your eggs in one basket. We do hope our colleagues in France don't mind our borrowing the image – it makes the point very nicely.
It was also interesting to note that the authors cite research suggesting that one Frenchman in two would be prepared to be a lender in peer-to-peer lending.
It seems opportune to remind visitors and registered lenders that our views on lending are very similar: see this video explaining how lending works and extolling the virtues of diversification.
Money&Co. is a peer-to-peer (P2P) business lender, otherwise known as a marketplace lender. We bring individual lenders together with carefully vetted borrower companies via our internet platform, a mechanism known as crowdfunding. You can diversify your portfolio by using the loan market to buy and sell income streams from other lenders 
Risk
Please bear in mind that marketplace lending carries risk with it. Please see our Home page and Frequently Asked Questions before committing capital. 
---
---