Crowd Calls For P2P Loan NISA – P2PFA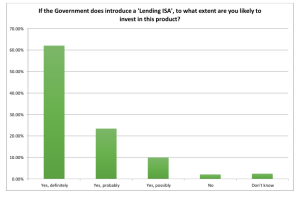 A new survey from the Peer to Peer Finance Association (P2PFA) indicates that consumers "overwhelmingly" believe that peer-to-peer (P2P) lending should be separated from traditional cash or stocks and shares New Individual Savings Accounts (NISAs) – also commonly referred to as ISAs.  
Over 4,500 individual lenders were polled regarding their preferences. The data also revealed that the majority of consumers (57 per cent) disagree that the creation of a lending ISA will add further complexity to the ISA regime.
Moreover the market seems set to grow. A new Scottish Widows survey says that UK savers are beginning to take a longer-term perspective.
The survey results include:
95 per cent welcome the UK Government's decision to include peer-to-peer lending within the ISA wrapper
74 per cent say they like the idea of keeping their peer-to-peer lending in a separate lending ISA;
81 per cent agree that peer-to-peer lending has different characteristics to investments in a Stocks and Shares ISA
81 per cent agree that a lending ISA will introduce more choice across the investments market
Christine Farnish, Chair of the P2PFA, said: "The survey's results give a clear message; consumers want to see greater choice across the ISA market and the creation of a Lending ISA is a positive and necessary step. Peer-to-peer lenders and consumers fully back the decisions that have already been made by the Government, but it is quite clear that they do not want to see peer-to-peer lending shoehorned into either the cash or the stocks and shares category of ISA because it is different in kind".
This information comes at a time when the UK will soon decide how P2P assets will "sit within the ISA wrapper". At Money&Co. we have long argued for the creation of a P2P loan NISA.
Money&Co. has also consistently argued for the recognition of P2P loans as a separate asset class – and consistently delineated the different rewards and risks associated with loans and deposit accounts. See this article for a fuller comparison.
Risk
Money&Co. brings people and businesses together by providing crowdfunded business loans. These loans are, we argue, a separate asset class from shares or savings accounts. "As is the case with any investment, there are risks," says Nicola Horlick. "Lenders should look for the best and most secure routes to help make their money grow." We have written extensively about the similarities and differences – the stronger and weaker points of the various types of assets.
For the full article, and a detailed comparison between P2P loans and deposit accounts, looking at security, access and yield, click here.
---
---