Lenders, Investors, Drinks And New Deals At Money&Co.

---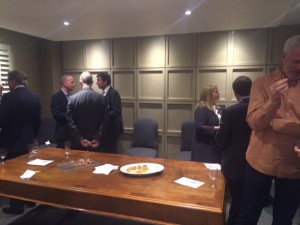 The recent drinks reception for lenders and investors (ie Money&Co. shareholders) at our Bruton Place offices was - even though you'd expect us to say as much - a resounding success.
The Money&Co. team was delighted to greet twenty or so guests, who heard our CEO, Nicola Horlick, head of credit analysis, Toby Furnivall, and independent corporate financier, Lindsay Rhodin, speak on our company, its business model, and recent deals.
Mr Rhodin was instrumental in bringing a mangement buyout deal to the table last month, and spoke about his experience in doing the deal. We shall be reporting on that in greater detail later this week.
"It was great to meet lenders and investors and hear their views on our part of the crowdfunding market, which is, of course, peer-to-peer (P2P) business lending," said Nicola. "We got some very valuable feedback from lenders, one of whom suggested some improvements to the user experience – better explanations of certain stages of the lending journey, and so on. We got the lender in conversation with our head of technology, Mike Stewart, who noted his comments. The suggested changes were very well observed, and they are being implemented."
One important point to emerge from the reception was the strong lender appetite for new deals on our site. We have a considerable number in the pipeline, with one expected very soon. But we must reiterate: we will not and cannot compromise on the quality of the borrowers, so occasional hiatuses at this stage in the life of our young company are sometimes unavoidable.

*** Ahead of the imminent announcement of a new deal, lenders can buy existing loans from other registered lenders by visiting the Loan Market page. Please bear in mind that risk is an inherent part of the lending process. Before committing capital, you should read the risk warnings on our Home page and in our Frequently Asked Questions.
---
---