Crowdfunding Comes Of Age With P2P-Funded Management Buyout Deal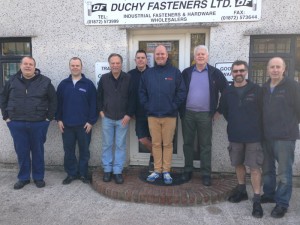 We facilitated a management buyout deal in conditions of secrecy earlier this year. Management buyout (MBO) deals are typically done quickly and very discreetly. Now it's all over, we are pleased to be able to publicise what happened, and the pivotal role we played.
The company was Duchy Fasteners – the core team is pictured, above. Duchy Fasteners is one of the largest suppliers of building material, consumables hardware and tooling in the West Country. It is headquartered in Cornwall.
Money&Co. harnessed the power of peer-to-peer (P2P) lending to facilitate the entirety of the senior debt and the working capital required for the MBO. The deal was funded in five working days.
"I think this deal demonstrates that crowdfunded marketplace loans can work as a fast-moving, agile financial instrument in an environment where timely delivery is all-important," said Alan Armstrong, director of Money&Co. "The Money&Co. model is all about bringing people and businesses together, and this A-rated deal provides a gross yield of around eight per cent for our lenders, while giving the management team the wherewithal to implement its growth strategy."
The buyout saw 100 per cent of Duchy Fasteners' share capital acquired by Chris Elford and the new management team, mentored for many years by Brian Gadsby, founder of Duchy. Chris will lead the company forward, and extends his heartfelt thanks to Brian for making the transaction possible: "I want to make Duchy Fasteners the pre-eminent supplier of its kind in the West Country on the strength of tireless customer service and longstanding relationships," said Chris Elford.
"I was delighted with the guidance and support I received from Lindsay Rhodin, DWF LLP and Money&Co. to bring the deal home. Cashflow-financing transactions of this sort and scale is all but impossible through conventional channels. We made our business case to Money&Co., which had the vision to recommend its inherent credit-worthiness on the strength of decades of consistent profitability. Once Money&Co. committed to the transaction, the funds were syndicated in five days. I am certain that no conventional lender, or indeed, any other crowdfunding resource could have performed as well and as quickly as Money & Co."
"Cash-flow lending for MBOs smaller than £2 million is a tortuous process and usually requires the support of personal guarantees," said Lindsay Rhodin. "Money&Co. fast-tracked the due diligence process typically required by clearing banks, which is disproportionately expensive and time consuming. Once Money&Co. had vetted the credit-worthiness of our transaction, funds were advanced at lightning speed. Any business owners, or their advisors, who are contemplating a financing of any kind for any purpose should make Money&Co. their first call. Particularly so when the scale of the financing is in the region of £100,000 to £1,000,000."
Risk
*** Money&Co.'s latest loan offering on site now has reached 77 per cent of its £500,000 target. The B-rated loan from the soft furnishings manufacturer is currently offering an indicative yield of over 10 per cent. The average yield achieved by Money&Co. lenders across all offerings is currently 8.83 per cent.
It is very important that lenders appreciate that, while we vet loan offerings very carefully, lending carries risk. Please read the risk warnings on our Home page, and in our Frequently Asked Questions. See also this video, which explains more about lending, including the potential benefits of spreading capital across a range of loans to lower risk.
---
---