Feeling The Power Of The Crowd With The Crowd Finders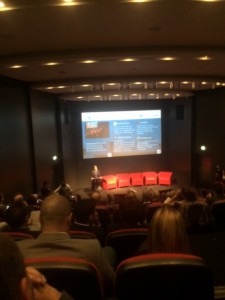 And so to far east London for the first Crowd Finders conference.
Once you get there – and it is a trek from all points west – The Crystal delivered excellent conference services. The facilities were excellent, the amphitheatre itself comfortable, and the staff attentive.
But the stars of the show were the speakers. The stimulating morning sessions were expertly marshalled by Will Broome, founder of Crowd Finders. In the afternoon, things got even better.
Thomas Davies of Seedrs.com, one of the biggest equity crowdfunding platforms, gave an amusing and inspiring speech on equity raises. His presentation was matched only by our own Nciola Horlick. The Money&Co. CEO spoke without notes for over 30 minutes, took a few questions, and caused a storm on Twitter, where her insights were recycled in bite-size form. Follow us on Twitter here @MoneyandCoUK  and Nicola here.
Nicola, poctured delivering her talk in the amphitheatre, quoted from a BDO report citing the outperfromance of UK small- and medium-sized companies versus their German counterparts, pointed out that when the stock market was formed it was a collection of individuals (and so a form of crowdfunding), and explained just when debt is preferable to Equity. In essence, equity is good for start-ups and younger companies, while our peer-to-peer (P2P) business loans are useful for more mature companies wuth a strong profit record who want to take a loan out to grow.
We have a brand-new loan on site, which has got off to a flying start, with eight per cent funded after just two days. We'll bring you more on this two-year, A-rated loan, currently yielding 9.6 per cent (indicative) tomorrow. NB Lending carries risk. Read warnings on our Home page and in Frequently Asked Questions.
---
---