'The Most Exciting Business I've Been Involved With' – Nicola Horlick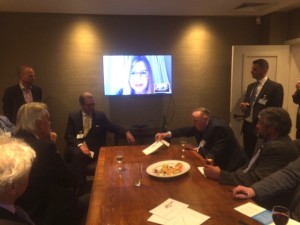 Well what a week it's been – and what a week lies ahead.
Today we'll reprise the events of a very exciting few days. Tomorrow, we'll look forward to the week head.
We hosted a drinks event for Money&Co. lenders, borrowers and investors on Tuesday. Nicola explained our business model and her vision of the way forward via a Skype link from California.
"This is the most exciting business I've ever been involved with," said Nicola. After a brief outline of the way Money&Co. Operates, and our ability to scale up the business as lender numbers increase, we had presentations from our credit analysis team and an investment analyst who has originated deals for the platform. There then followed an engaging question-and-answer session followed by drinks.
The next day saw a new A-rated loan offering up on site. The new arrival coincided with a mini-surge of cash bids. The new loan, a two-year £315,000 offer with a gross indicative yield of 9.6 per cent at the time of writing, has achieved more than 10 per cent of its target in the first four days. Olsen Doors & Windows, a B-rated four-year offer currently offering 10.5 per cent, has now reached 85 per cent of its target with four days left before the auction closes.
Thursday saw Nicola arrive from California and head straight to make a very well received presentation at the Crowd Finders conference in east London.
All our loan offers are attracting strong interest, and the site is busy and getting busier. That's a trend that looks set to continue, as we continue to spread the crowdfunding word next week.
Risk 
*** Please remember lending carries risk. See the warnings on our Lend and Home pages and in Frequently Asked Questions.
---
---