An Orderly Crowd? UK Regulators Get Qualified Praise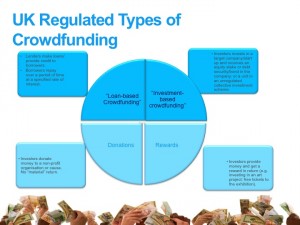 The explosive growth of the UK crowdfunding industry is hugely exciting. But on the flipside of the exciting opportunities the industry's players – and its regulators – face some pretty serious challenges.
Today, we look at the regulation of our young sector. The news, broadly speaking, is – so far – very good.
JD Alois reports in Crowdfundinsider that the UK crowdfunding industry is the best-regulated in the world: "The internet finance industry has evolved quite rapidly in the UK.  This is not by chance. The cocktail of innovative risk takers, combined with a regulatory regime that has not only allowed, but encouraged, FinTech to challenge established financial firms has delivered an industry that, in many ways, leads the world."
Last week, Karen Butler, a senior regulatory lawyer at the London offices of global law firm, King & Wood Mallesons, gave a comprehensive and authoritative presentation at the Discovering The Power Of The Crowd conference at the RAC in Lon don. In it, she set out the scope of the regulators' brief, their current approach, and commentary on how industry players and regulators can work together. Below are some of the key questions Ms Butler sugested that practitioners might ask themselves when seeking regulatory permissions: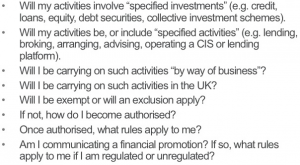 It is, clearly, so much more complex than simply sitting back and praising the "light-touch" approach.
Justin Urquhart Stewart Of Seven Investment Management highlights his approach here, in CityA.M.
We'll shortly be posting footage of Ms Butler's presentation on this site. The media sponsors, CityA.M., and co-sponsor, Another Crowd will also host footage of this widely praised event.

 *** Are you registered with Money&Co.?
Our registered users had the opportunity to claim a ticket at last week's Discovering The Power Of The Crowd conference at a discount of £40 to the full £190 price, which included a star-studded line-up of speakers, lunch and networking drinks. We are planning another conference in Exeter this autumn, with fuller detail to be released soon. Register to make loans and to benefit from future conference discounts by signing up here. It takes just a few minutes.
---
---