Discover The Power Of Crowdfunding - All In A Day

---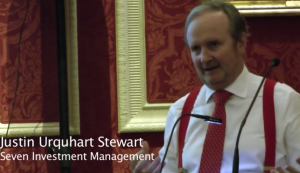 What's the working definition of a banking consultant? The answer's simple, according to Justin Urqhart Stewart of Seven Investment Management – a banking consultant is a banker who just happens to be unemployed!
Justin kicked off the recent Discovering The Power Of The Crowd conference, which Money&Co. co-sponsored, along with CityA.M., Another Crowd, Archover, Crowdnetic UK and Venture Founders. The opening speech was every bit as rip-roaring and unabashed as Justin's sartorial style (those red braces are a timeless a mission statement).
The idea of the day was to cover the needs of companies seeking capital (equity for early-stage companies followed by the debt that Money&Co, and Archiver can provide for more mature companies seeking loans). In the afternoon the focus shifted to the needs of individual lenders and investors - how to quantify risk, verify that the data is sound enough to make a proper judgement, and a tour of the regulatory environment.
After Justin set the scene, we had fine presentations and question-and-answer sessions from Jeff Lynn of Seedrs (an equity platform), James Codling of Venture Founders (an equity platform that deals with later-stage equity raises) and a very lively debate involving the founder of Syndicate Room (an equity angel platform), Julia Groves of the Trillion Fund, and roving crowdfund sceptic, Chris Sier (Chris is still an investor in and via crowdfunding platforms – he just asks some of the best and toughest questions around).
You can get a notion of how vigorous, engaging and worthwhile this day-long conference was by watching this short video.

*** Are you registered with Money&Co.?
Our registered users had the opportunity to claim a ticket at last week's Discovering The Power Of The Crowd conference at a discount of £40 to the full £190 price, which included a star-studded line-up of speakers, lunch and networking drinks. We are planning another conference in Exeter this autumn, with fuller detail to be released soon.Register to make loans and to benefit from future conference discounts by signing up here. It takes just a few minutes.
---
---