'No Shadows in P2P' - Zopa Founder in Crowdfundinsider

---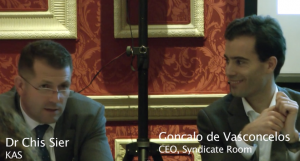 Crowdfunding is such a young industry that the names for the things we do aren't properly established. A common mistake is to confuse equity raises for the whole of crowdfunding. At Money&Co., we bring businesses together with people, via our high-tech platform. Lenders can get excellent returns on capital, and businesses receive the money they need to grow.
Initially, when we were finalising the build of the Money&Co. platform in early 2014, we styled what we were doing as "peer-to-business", or P2B, lending. Then, after some serious discussion with likes of Bryan Zhang of Cambridge University's Judge Business School, we decided that "peer-to-peer" (P2P) business lending was the best format. Since then, there has been a movement – resisted by some – to call what we do "marketplace lending". But that term is resisted in some quarters, as many feel that the advent of institutional money is taking the crowd out of crowdfunding. See this Money&Co. report on the phenomenon.
Here, Giles Andrew, co-founder of Zopa (a P2P lender), rails against another name. Giles does not like the moves to label P2P – also styled as or marketplace lending in this crowdfundinsider piece - as "shadow banking".
He says: "The activities of the P2P lender that I helped set up, Zopa, are as far from shadowy as the most diligent regulator could hope for. A founding principle of P2P lending is to ensure that platforms are open and transparent about lending."

The recent Discovering The Power Of The Crowd conference in London examined both debt and equity sources of capital for young companies. It was an exercise in transparency and really vigorous, open debate. In the middle section of this short feature, Chris Sier of KAS debates with Goncalo de Vasconcelos of equity platform, Syndicate Room in a way that captured everyone's attention.

*** Are you registered with Money&Co.?
Our registered users had the opportunity to claim a ticket at the recent Discovering The Power Of The Crowd conference at a discount of £40 to the full £190 price, which included a star-studded line-up of speakers, lunch and networking drinks. We are planning another conference in Exeter this autumn, with fuller detail to be released soon.Register to make loans and to benefit from future conference discounts by signing up here. It takes just a few minutes.
---
---