Nicola Horlick Is Who's Who Champion Of Change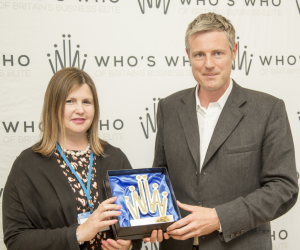 Money&Co. CEO, Nicola Horlick, has won the inaugural "Who's Who Champion of Change" award, presented by Zac Goldsmith MP at the Houses of Parliament.
The Champion of Change award recognises the achievements of leading business individuals. It recognises business owners that have transformed their public profile and positioned themselves as leaders in their chosen field.
Who's Who were delighted that Nicola accepted the award and became its first winner. "Clearly a true champion of change – a leading player in the exciting, innovative, ever-changing arena of FinTech – Nicola has moved on from being a traditional asset manager to democratising finance via her crowdfund-lending platform, Money&Co., which brings people seeking a good return on capital together with businesses seeking funding for growth," said a spokesman.
Graham Rowan, chairman of Who's Who said: "It is important to celebrate entrepreneurs as the bedrock on which our economy is built. Overcoming the odds to generate wealth and jobs in an ever more competitive global market is a significant achievement.  Achieving success through hard slog, overcoming obstacles and setbacks deserve to be recognised."
Zac Goldsmith, MP for Richmond Park and North Kingston added: "I'm delighted to play a small part in recognising Nicola Horlick's achievement and innovation.  I come from an entrepreneurial family and I know it can be a lonely place. It's important that we highlight the vital role that business plays in our economy – businesses are the engine for growth that the UK needs more than ever in this climate. We're good at innovation in this country but not so good at celebrating success."
In her acceptance speech, Nicola explained how she has brought the disciplines of the regulated financial world into the peer-to-peer business lending sector which operates under a light-touch regime. This ensures that the companies which appear on the Money&Co. platform have at least three years of profitable accounts. "If a company is in its early stages it's wrong for them to be loading up with debt. They need to start by raising more equity. We reject 90 per cent of the applications we receive simply because they can't provide three years of profitable accounts," she said.
*** A brand-new A-rated loan offering from a Yorkshire-based steel fabricator has just come on the Money&Co. site. We'll bring you more on this tomorrow. Registered lenders can find out more by logging in.
---
---