P2P Set To Dominate Consumer Lending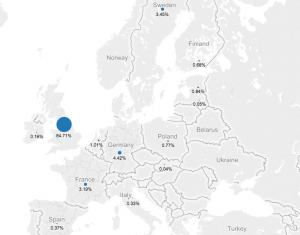 Judith Evans in the Financial Times takes recent figures from the AltFiLiberum data resource (see illustration above), and notes the rise and rise of peer-to-peer (P2P) lending.
"Peer-to-peer lending to businesses is on the verge of overtaking lending to consumers as investors chase higher returns available from more risky business loans.

"Cumulative P2P consumer lending stood at £1.583bn, while lending to small and medium-sized businesses totalled £1.581bn as of June 16, according to the AltFi Liberum Volume Index." See AltFi's data in more depth here.
"Business lending is on a steeper growth curve, partly driven by the rapid entry of institutional lenders into the sector; it reached £500m of cumulative loans in mid-2014, almost a year after consumer loans reached the same point."
Ms Evans links to the admission of P2P-invested investment trusts as an Individual Savings Account (ISA)-friendly asset class on 1st July. We reported on the expansion of the available ISA asset classes last week. Money&Co. CEO, Nicola Horlick, hopes (and we expect) that P2P loans generally will be available for inclusion in ISAs after the 8th July Budget statement.
"The Treasury and HMRC have been very good so far in consulting with the industry and helping us get liquidity to the small and medium-sized enterprises (SMEs) that are the lifeblood of the current economic recovery. What will really help crowdfunders, our lenders and the businesses borrowing for economic growth, is to have P2P loans fully recognised as an asset class that can be held in an ISA," said Nicola. "Once we can create managed vehicles containing P2P loans, investors in what will effectively be bond funds will get an attractive, tax-free return, and borrowers will see the flow of liquidity increase. That will have a beneficial effect all round." 
*** Our latest loan offering, Real Engineering (Yorkshire) Ltd., continues to forge ahead. The A-rated loan is for £367,000, with an indicative gross yield of 8.5 per cent. It is already 28 per cent funded. Register to lend.
Risk
Please remember that lending carries risk. See warnings on our Home page and in Frequently Asked Questions.
---
---