How To Tweet 'Friends' And 'Influence' People...

---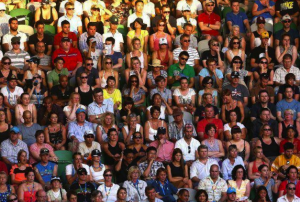 Journalism "by list" is a reductive business. Nevertheless, here's a list, courtesy of our friends at CityA.M. – all about the supposed influence of folk in the word of alternative finance.
Money&Co.'s CEO Nicola Horlick features in the 20s – not bad, considering she scarcely bothers with Twitter at all...
So here's the recent CityA.M. article and its attendant list of the "influential" - all illustrated with the pictture we've stolen, captioned "the most influential". We abstain, frankly.

"[Alternative finance] is a sector that can't be ignored. Providers made £1.74bn available to UK firms and individuals in 2014, with person-to-business lending at £749m, person-to-person lending at £547m and invoice discounting at £270m.
"Indeed, the former, which includes debt-based crowdfunding, grew at 250 per cent last year in the UK, leapfrogging consumer lending, according to data from Cambridge's Judge Business School.
"And despite being far smaller relatively speaking, equity-based crowdfunding boomed by 420 per cent in 2014, with volumes totalling £84m. London alone sees an average of 12 projects going live on crowdfunding sites every day.
"These are the movers, the shakers, the doers and builders, and the people you need to know in the world of alternative finance right now.
"The alternative finance most influential powerlist is based on the on active users of Twitter and other social media and their Klout scores. This Klout score is based on various metrics from Twitter, Facebook, Google Plus, LinkedIn, Instagram, Foursquare, Wikipedia as well as Klout.
"The influencer list is an almost real-time run-down of the most important people in alternative finance on social media which is automatically updated on a weekly basis."

*** Here's some meatier data (ie, not meta-data) for you: Real Engineering (Yorkshire) Ltd , Money&Co.'s latest A-rated loan offering, has taken in over £50,000 in the last three days. It is now 43 per cent funded with 18 days left. The overall target is £367,000.
Risk
Please remember that lending carries risk. See warnings on our Home page and in Frequently Asked Questions.
---
---