'Banks Aren't Really There For SMEs' – Nicola Horlick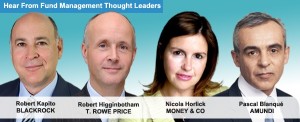 Change is the name of our game.
The Fund Forum International at the Grimaldi Centre in Monaco calls itself the largest fund management forum in the world. Money&Co.'s CEO, Nicola Horlick, used to be a high-profile manager in the traditional business of asset management. Yesterday, she spoke at the opening conference session, and startled a few attendees by spreading the word on alternative finance, and specifically the debt crowdfunding in which we specialise at Money&Co.

UK fund managers are going to have to take careful notice of peer-to-peer (P2P) loans if these loans are recognised as an asset class capable of being held in a New Individual Savings Account (this means that savers can hold more than £15,000-worth of assets, tax-free, each year).
But the banks too are facing major challenges from alternative finance providers like us, as Nicola explained after her session at the conference.
"The banks aren't really there at the moment [for small and medium-sized enterprises]… though it's not really their fault," said `Nicola "[We provide credit] for companies that don't have access to the capital markets, who used to rely on the banks…"
To see the short interview in full, click here.

*** Are you registered with Money&Co.? Our registered users had the opportunity to claim a ticket at last week's Discovering The Power Of The Crowd conference at a discount of £40 to the full £190 price, which included a star-studded line-up of speakers, lunch and networking drinks. We are planning another conference in Exter on 17th September in association with lawyers, Foot Anstey. Register to make loans and to benefit from future conference discounts by signing up here. It takes just a few minutes.
---
---