We Could Get By With A Little HLEP From Our Friends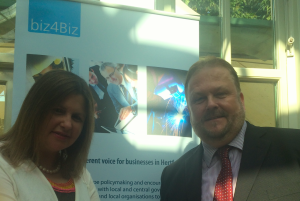 We believe we have set a record for "pure" peer-to-peer (P2P) business lending at Money&Co. In the first year of facilitating loans (after months of preparation and we and administrative-system design) we facilitated some £6 million-worth of P2P loans.
We did that without recourse to institutional money (no liquidity came in from family offices, hedge funds, pension or other investment funds). So we really did what we set out to do – we are bring individuals (sometimes wealth individuals, but individuals nevertheless) together with businesses. There may be new entrants into the P2P loan market that have facilitated more loans, but we believe none has managed to do this level of business without institutional support.

Not there's anything wrong with institutions. It's no secret that several big players are interested in our sector.
One exciting, but relatively small link-up we can talk about is the connection with the Hertfordshire Local Enterprise Partnership (HLEP) and biz4biz.
HLEP is focused on helping to drive forward sustainable economic growth – with local business, education providers, the third sector and the public sector working together to achieve this. Its aim is aim is "to create the right conditions to "accelerate business-led economic growth in Hertfordshire" and for the county to become a world-leading economy; one of the top three in the country outside London."
A team from Money&Co. went to an early-bird breakfast in Hitchin last week, where Nicola spoke about what we do to members of the bz4biz organisation, founded by HELP director and successful local business man, Adrian Hawkins (picture with Nicola, above).
The biz4Biz organization is a pressure group – seeking to provide "a coherent voice for businesses in Hertfordshire. We aim to influence and shape policymaking and encourage investment in Hertfordshire by engaging with local and central government, relevant public sector bodies and local organisations to promote the county of Hertfordshire as a great place to live and do business."
There were some high-powered business people in the room, and much talk of unlocking funds and borrowers seeking funds for growth. We'll bring you more news when we have it.
*** Real Engineering is now over 50 per cent of the way to its £376,000 target. The loan is A-rated, and has a current gross indicative yield of 8.6 per cent.
Risk
NB Lending carries risk. Read the warnings on our Home page and in our Frequently Asked Questions.
---
---