All About P2P Lending – Yield, Process, And The Rest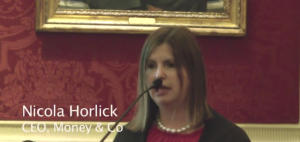 Here are just some of the issues that every lender and borrower involved or thinking of getting involved in the peer-to-peer lending process should be addressing.
If you want to:
Find out what the average yield is on a peer-to-peer loan…
Find out how long it takes to get a P2P business loan…
Find out more about the peer-to-peer or P2P borrowing process…
And if text doesn't do it for you, check out our CEO, Nicola Horlick, speaking at the recent Money&Co. co-sponsored conference, Discovering The Power Of The Crowd, in London.

*** Are you registered with Money&Co.?
Our registered users had the opportunity to claim a ticket at the recent Discovering The Power Of The Crowd conference at a discount of £40 to the full £190 price, which included a star-studded line-up of speakers, lunch and networking drinks. We are planning another conference in Exeter on 17th September, with fuller detail to be released soon.Register to make loans and to benefit from future conference discounts by signing up here. It takes just a few minutes.
---
---