Dinosaur Bankers Unaware Of Alternative Finance Competition

Meteor? What meteor?
Just when we were beginning to think that all those comparisons between bankers and dinosaurs might be a little overdone…
The Memo, a US intelligence platform, runs a story pegged to the launch of a new book – Bye Bye Banks? The copy and attached table make for a shocking read – even by contemporary standards of institutional complacency.
"Banks and the bankers who run them are blind to the rising challenge they face from the growth of alternative finance, a field expected to overtake 10% of the high street banking market over the next five years, according to a new book Bye Bye Banks?.
"Over 100 senior executives at top banks were surveyed by the book's authors James Haycock and technology reporter Shane Richmond.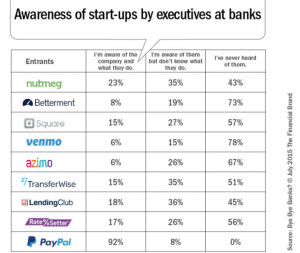 "The survey revealed many had never even heard of peer-to-peer lenders like RateSetter and Lending Club, online investment management firms like Nutmeg and Betterment, or international money transfer businesses like TransferWise and Azimo. 
"The results are surprising, especially considering that according to KPMG, these alternative finance providers are expected to gobble up 10% of bank's business lending to people and firms over the next five years."
You can acquire a copy of Bye Bye Banks? on Amazon by clicking here.

*** Are you registered with Money&Co.?
Our registered users had the opportunity to claim a ticket at the recent Discovering The Power Of The Crowd conference at a discount of £40 to the full £190 price, which included a star-studded line-up of speakers, lunch and networking drinks. We are planning another conference in Exeter on 17th September, and another in London in October, with full detail to be released soon.Register to make loans and to benefit from future conference discounts by signing up here. It takes just a few minutes.
---
---