UK P2P Lenders More Engaged Than US In Fast-Growing Market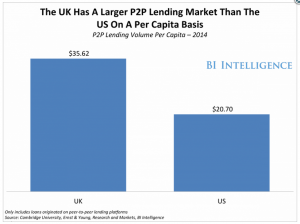 We may not be bigger, but it seems we might be better.
The UK's peer-to-peer (P2P) lending market is fast-growing and, per capita, draws more commitment from lenders, according to a report from Business Insider. The report draws on a research document compiled by Business Insider, with supplementary data from Cambridge University and Ernst & Young.
"The UK generated nearly $2.3 billion in peer-to-peer (P2P) loans in 2014, making its alternative lending market the largest in the world on a per capita basis. To illustrate, 72 per cent more lending volume is transacted in the UK than in the US per person.
"The UK's success in P2P lending can be largely attributed to a positive regulatory environment and consumer attitudes that are wary of traditional banking. Now, continental Europe is following UK's lead, generating significant activity over the past three years: countries with large economies that weren't generating any revenue in P2P business lending are processing millions."
We have an exciting new deal in the pipeline, and hope to announce its arrival on the Money&Co. platform in the next few days. You can register to lend here.
*** Crowdfunding tips. Here are the first of a series of crowdfunding tips on our site.
Take the trouble to understand what you're putting money into. The things that you can gain access to via a crowdfunding platform such as Money&Co. are typically different from traditional bank accounts and savings products. They are a different type of asset, an alternative way of deploying money in what is known as the alternative finance sector.
Avoid the common confusion between equity crowdfunding – which gets a lot of attention in the media – and debt or loan crowdfunding. Money&Co. is simply a way of bringing people and businesses together through the mechanism of our internet platform. We are a peer-to-per (P2P) business-lending platform.
For the full list of tips, click here.
---
---