Alternative Funding In Action – Plus ISA Limit Latest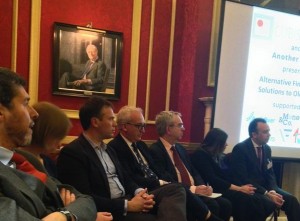 Monday's Alternative Funding – News Solutions To Old Problems conference concluded with a panel discussion chaired by Ed Bowsher of Share Radio. After a day of extremely interesting and incisive presentations (invariably followed by question-and-answer sessions) Ed chaired a panel session that reprised the major issues and points of debate over the course of the day.
This was journalism in action, and made for really engaging forum of debate. Many thanks to our panelists, pictured from left to right – David Salamons of Cubism Law, Harriet Green of CityA.M., James Codling of VentureFounders, Ed Bowsher, Nicola Horlick of Money&Co., and Adam Braggs of Crowdnetic.

We have been mightily heartened by the UK government's support for peer-to-peer (P2P) crowdfunding. But governments can't buck the markets, to paraphrase former Prime Minister, Margaret Thatcher.
Individual Savings Accounts (ISAs) will include P2P assets in the Innovative Finance ISA, available next tax year, but the investment limit is unlikely to rise beyond present levels because of low inflation, according to The Telegraph.
"The Isa limit is linked to each September's inflation figure. The Consumer Prices Index (CPI) figure last September was 1.2pc. Applying that increase would take the Isa allowance up to £15,180.
But the calculation is complicated by Treasury guidelines that state that the figure is rounded to "a convenient" multiple of £120, be it "the nearest" or "the next". This is done so as to not to complicate the affairs of regular, monthly savers putting away the maximum amount. It meant the limit rose to £15,240."
We're pleased to report the Norvic Aero Engines B+ loan closed yesterday, raising the full £317,000 at an average gross yield of 9.7 per cent.
---
---