BBC Newsnight Debate: Do Bankers Really Deserve Respect?

---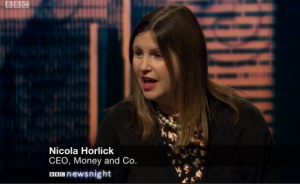 "It is perhaps a mark of how far we've come since 2008 that the governor of the Bank of England can suggest that the time has come for people to start showing bankers a little respect," opines CityA.M., commenting on Governor Mark Carney's speech this week.
That speech prompted BBC's flagship news programme, Newsnight, to invite Money&Co. CEO Nicola Horlick to debate the usefulness of banking and bankers in the aftermath of the 2008 financial crisis.
Nicola was in conversation with academic economist and author John Kay, author of Other People's Money. Although the speakers were set up as pro- and anti-bankers, they were in fact largely in agreement on many issues. By 2008, Nicola had already left the City mainstream, and had set up an alternative asset fund, designed to provide returns not correlated to stockmarket moves. She found herself wondering what her former colleagues in mainstream fund management had been thinking of...

"The one thing I find a little odd is that the shareholders didn't play a bigger role, because there were lots of warning signs," she says at one point. "I didn't notice many shareholders standing up and saying 'what are you all doing, you bankers, people running these banks?'. That mystifies me. The fund managers who control large shareholdings in these banks ought to have been saying something – there were plenty of warning signs."
The debate was a useful exercise - we just wish the caption spelled our company name correctly! It's Money&Co.
The full programme is currently available on BBC iPlayer here. The debate on banking begins at around 19' 45".

Alternative finance doesn't exist in an alternative universe – but it is different from the mainstream. To learn more about how we channel other people's money into something useful – good returns for lenders, and funding for carefully vetted small and medium-sized business, visit out knowledge hub, which features several short articles crammed with useful facts and tips about lending via crowdfunding.
You should bear in mind that loaned capital is at risk – read the warnings on our Home, Lend and FAQ pages.
---
---