British Influence on Europe And SME Prosperity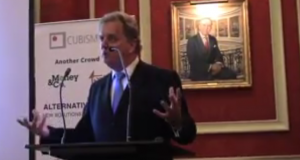 One of the star performers at the recent Alternative Finance: New Solutions to Old Problems conference, sponsored by Cubism Law and co-sponsored by Money&Co. was Peter Wilding of British Influence. Peter, a qualified lawyer, is passionately pro-business, and is politically engaged on the centre-right of the UK political spectrum.
British Influence (BI) was another co-sponsor. It is a cross-party campaign whose objective is to keep Britain in Europe, with the goal of influencing policy from within.  Peter, pictured above, argues that completing the pan-European market in financial services (goods and freedom of movement are pretty much complete – but not financial services) would open up huge potential markets for the small and medium-sized enterprises that form the Money&Co. borrower base.
See the full presentation here.
Learn More About Crowdfunding, Register To Lend
Facts and tips about crowdfunding in general are available by reading our knowledge hub, here.
To learn more about getting good returns on capital potential lenders should click here. Remember, when lending your capital is at risk – please read the warnings on our Home, Lend and Frequently Asked Questions pages.
---
---