Debt Vs Equity For SMEs Explored And Explained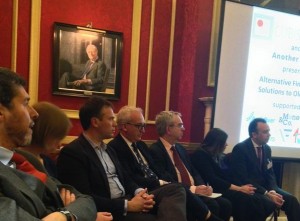 SME Insider is almost always an engaging read. This week it carries a mini-profile of small-business owner Oliver Southern, a London-based entrepreneur who started his career at one of the world's biggest technology companies.
Oliver is the force behind Chored, an app for house shares. "It lets users split and pay bills (including rent and utilities) directly to the company via the app. As the name suggests, Chored also allows housemates to assign and track household chores," says SME Insider, before asking a crucial question:

What advice can you give to SME owners who are searching for funds – should they go down the alternative market or approach their bank?
Oliver replies: "Firstly, do not underestimate how challenging raising money is. This is especially true of the first investment – no one likes to be the first to make that leap of faith. That said, aim low to begin with. Smaller investments attract larger investments, so as long as you have the energy to keep the round open for a while, it could even be worth starting your journey with a small crowd funding target.
This is exactly what we did; we raised 20,000 with Crowd2Fund, then four months later we closed the round with £150,000. Also, never give up! Belief is an incredibly powerful commodity, and essentially one you alone control.
Thankfully, entrepreneurship is one area in which our government is doing a fantastic job in helping SME owners searching for funds. Without the SEIS tax relief offered to investors in our first round, we could not have managed to raise our initial £150,000, and without EIS, our second round would look very different. Together with offering R&D tax credits for new tech ventures, along with various possible government funding schemes, I think start-ups in the UK are well catered for."
SME Equity or Debt?
Money&Co. has facilitated loans of around £7 million to SMEs since the launch of our website. But is debt the right funding route or your company? See the panel discussion at the recent Alternative Finance: New Solutions To Old Problems, and an offline interview with Cubism Law funding expert lawyer, Andrew Bird.
Entrepreneurs and SMEs looking to borrow from Money&Co. should click here. Facts and tips about crowdfunding in general are available by reading our knowledge hub, here.
To learn more about getting good returns on capital potential lenders should click here. Remember, when lending your capital is at risk – please read the warnings on our Home, Lend and Frequently Asked Questions pages.
---
---