BBC's Bottom Line: 'A Decade Of Disruption'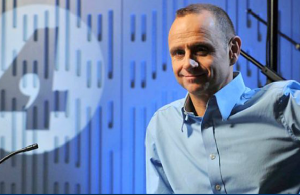 Here's some easy listening. We say "easy", but it might be quite uncomfortable in some ways.
Money&Co.'s CEO, Nicola was recently invited to appear on BBC Radio 4's tenth-anniversary edition of The Bottom Line, in which host Evan Davis interviews luminaries of UK finance and industry. Click here to listen to the programme.

As a regular interviewee, Nicola was invited to discuss the past decade, including the decline in manufacturing, worrying demographic trends in the UK (older population and scarcely adequate social and health care), and the digital revolution in retail and healthcare.
General listeners may experience marginal discomfort as regards demography. While retailers and bankers may not feel pleased by what has been and continues to be a decade of disruption.
Our favourite quote has to be Nicola's, as she describes her transition from investing in quoted shares to private companies – and the peer-to-peer (P2P) lending market that Money&Co. helps to facilitate.
"In the old days, whenever anybody said to me, 'there's a new paradigm,' that always meant Sell!'"
The average return achieved by Money&Co. lenders is over 9.1 per cent. But please be mindful of the risks associated with P2P (see FAQs) as well as the good returns to be had:See here the latest of several articles (links to earlier pieces are embedded in this one).Our lenders have achieved an average gross return of over 9 per cent since we began facilitating loans in April 2014.
SMEs with at least three years' filed accounts and a strong track record of profitability who are looking to borrow from Money&Co. should click here. Facts and tips about crowdfunding in general are available by reading our knowledge hub, here.
To learn more about getting good returns on capital potential lenders should click here.Remember, when lending your capital is at risk – please read the warnings on our Home, Lend and Frequently Asked Questions pages.
---
---