Crowdfunding: Why Size, Security And Regulation Matter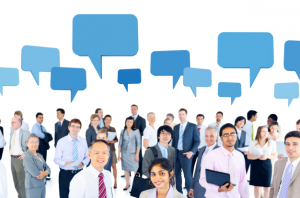 Professor Robert Wardrop and Tania Ziegler of Cambridge University's Judge Business School offer an engaging and comprehensive review of where they believe crowdfunding in Europe is going, particularly in the light of the FCA's review of UK Crowdfunding.
The article is too long to reproduce in full here. Crowdfundinsder carries the full piece.
Below, we offer some extended excerpts on the nature of the overall UK crowdfunding market, the character of loan-based crowdfunding (peer-to-peer [P2P] business lending, which is what we do), its risks, and the authors' conclusions on how the FCA regulates our market.
As a side issue, it's pleasing to note that our attempts to help in the settling of the language describing our industry have met with some success. We are P2P business lenders, although some still describe our activity as peer-to-business (P2B) crowdfunding. Heartfelt thanks to Bryan Zhang of Cambridge University, who played a central role in framing these terms (see credits on the graphics).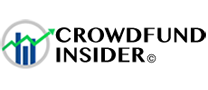 "The United Kingdom is the leader in online alternative finance in the European market, accounting for just under 75 percent of all transaction volumes in Europe (Wardrop et al. 2015). In 2015, online alternative finance in the United Kingdom grew to GBP 3.2 billion, increasing by 84 percent from GBP 1.74 billion in 2014 (Zhang et al. 2016). Sizeable growth in 2015 coincided with successful integration of sector regulation, alongside continued government support for alternative finance. While many member states have opted for a "wait and see" approach to crowdfunding regulation, the United Kingdom was of the first nations to create bespoke regulation for crowdfunding activities. As the regulating body that monitors and supervises crowdfunding activities in the UK is the Financial Conduct Authority (FCA), this article will centre on the regulatory regime that it has adopted.
The size of loan-based crowdfunding
"In the simplest of terms, the FCA outlines loan-based crowdfunding activities as an activity that "facilitates loans between individual [lenders] and individuals and business [borrowers]" (FCA 2015a) and is defined as a " firms that operate[s] electronic systems in relation to lending" (FCA 2015a). As noted previously, loan-based crowdfunding captures the activities of a number of online alternative finance models, including peer-to-peer (P2P) lending models that include P2P Business Lending, P2P Business Lending for Real Estate, and P2P Consumer Lending, and invoice trading. A total of GBP 2.7 billion was facilitated by these online alternative finance models in 2015. As indicated by Figure 2, P2P Consumer Lending and P2P Business Lending contributed the most significant proportions of lending in 2015. The very same year, however, proved to be a watershed for the relative newcomer, P2P Real Estate Lending. In the Pushing Boundaries report, this segment of P2P Lending is associated with P2P Business Lending, as only businesses may participate as borrowers at present.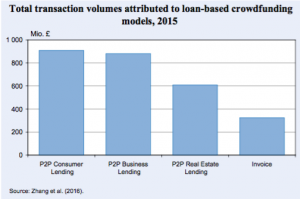 Potential risks
"In the Pushing Boundaries report, P2P Lending plat- forms indicated that the introduction of the IFISA would constitute significant growth. P2P Consumer and Business Lending platforms indicated an anticipated annual growth in volume of approximately 27 percent to their respective models, while P2P Real-Estate Lenders expect 52 percent growth in their transaction volume (Zhang et al. 2016, 32). Given the high hopes of the industry, it is curious to note that none of the major P2P Lending platforms may currently use an IFISA, as only P2P loans on fully authorised platforms are eligible investments for the IFISA. The significant backlog of FCA applications for authorisation has left many wondering if the impact of the ISA will be delayed into the second half of the year.
"As far as the authorisation process is concerned, one additional potential risk is that of industry consolidation within the next year, with the merger of P2P lending platforms with each other or to another type of intermediary. When a firm applies for authorisation, a key component of the application is the platform ownership structure. Any change in ownership requires pre-approval and subsequent re-authorisation. The levels of concern over the merging of consumer data, client monies, etc. remain an unknown quantity, and such merging would probably cause considerable upheaval at a procedural level. 
Conclusion
"The FCA's approach to crowdfunding is often lauded as the "gold-standard" for crowdfunding regulation. With regulation now having been in place for over a year, it is interesting to note the high levels of satisfaction registered by crowdfunding platforms. In the Pushing Boundaries UK industry report, the platforms surveyed were asked to indicate their levels of satisfaction with the existing regulatory framework, and to gauge their perceptions of prospective regulatory changes.
"Of the P2P Lending (loan-based crowdfunding) platforms surveyed, 91 percent regarded the current regulatory regime as "adequate and appropriate" to their activities, with only 5.66 percent suggesting that "tighter or stricter" regulation need to be implemented. A mere 3.77 percent viewed regulation as "excessive and too strict" (Zhang et al. 2016, 31). Similarly, equity-based crowdfunding registered high levels of satisfaction with the FCA's regulatory approach, with 89 percent of platforms viewing the regulatory regime as "adequate and appropriate". Just under eight percent of the equity-based platforms surveyed advocated a tighter and stricter regulatory approach, while only three percent of platforms regarded the current FCA regulation as too "excessive and strict" (Zhang et al. 2016).
"Given the positive industry sentiment towards its regulator, and an evolving framework to address concerns or potential growth-barriers as they arise, the FCA's approach to crowdfunding has proven a resounding success to date."
Money&Co.'s latest loan offering closed on Friday with an average cost of credit of just under 8.3 per cent. A new loan offering is expected imminently.
Our loans are only offered if our borrowers are free of all other debt, and have a track record of sustained profit. Moreover, Money&Co. takes a charge on the assets of the company, which is exercisable if a borrower defaults. The relevant assets could then be sold and used to reimburse lenders. As yet, after two years' trading, no borrowers are in default. See our recent article on Money&Co.'s conservative attitude to vetting deals.
That said, remember that when lending, capital is at risk. See warnings on Home, Lend and FAQ pages.
---
---