Crowdfunding: Decentralisation, Democratisation And Rapid Growth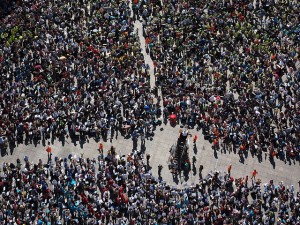 A new report on alternative finance, including crowdfunding, community shares and peer-to-peer lending is attracting widespread interest in the media and elsewhere.
Financial innovation today: Towards economic resilience is authored by Mark Davis and Tim Braunholtz-Speight from the Bauman Institute in Leeds. It examines a number of issues around what is termed the decentralisation of finance.
The Times highlights a suggestion that P2P should come under a government guarantee umbrella: "The government should consider guaranteeing qualifying consumer investments made through alternative finance platforms, but only when these investments benefit the 'real economy', according to academics.
"The proposal is one of the recommendations made after a study of Britain's peer-to-peer lending and crowdfunding industry conducted by the Bauman Institute at the University of Leeds.
Researchers said that wider participation in areas such as crowdfunding could be encouraged if the taxpayer acted as a backstop for direct investments made in local businesses, regional infrastructure and community projects, offering a cheaper, more efficient option for the public purse."
The research is based on interviews with interviews with alternative-finance practitioners and looks at their motivations and ambitions, plus the scope for alternative finance to widen its consumer appeal.
New Start magazine also notes the publication of the research, and summarises some of the key points.
Alternative finance is going through rapid growth
"The UK 'AltFin' sector is growing fast, worth £3.2bn in 2015 – a five-fold increase on two years previously. This is still a small part of overall UK financial services, but in some sub-sectors the alternative is becoming significant. Although banks lent over £50bn to SMEs in 2015, 14% of new loans to small businesses came via alternative finance platforms. In the community enterprise field, the £61m raised through community shares last year is a significant sum. And while it is smaller, donation-based crowdfunding is the fastest-growing part of alternative finance.
The basic business model is that funders (individuals) transfer money to fundraisers (individuals or organisations) through an online platform, which charges fundraisers a fee for this service. Beyond this there are many different financial arrangements, all with different implications for funders and fundraisers. Peer-to-peer loans, bonds and debentures have to be repaid with interest. Community shares are regulated to keep dividend payments low, but give shareholders a say in the governance of the fundraising organisation. Donations are the simplest model, with companies suggesting that offering 'in-kind' or symbolic rewards to donors helps raise money."
We'll be back with more from the report next week.
Learn more about the basics of crowdfunding and P2P lending by visiting our Knowledge Hub.
---
---