Crowdfunding: If Something's Worth Saying Once...

---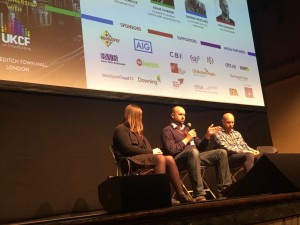 Repetition can be a rhetorical device of great effect. Mostly, it's just dull – the sound of not very bright people agreeing with themselves (It is. It is. It is.).
So hats off to Phil Geraghty of Crowdfunder, Darren Westlake of Crowdcube and Money&Co.'s CEO, Nicola Horlick, (see opiucture, above) who spoke at length and very engagingly at yesterday's Crowdfest alternative-finance conference on the subject of Understanding Emerging Asset Classes.
None of them was saying anything wildly new or different – at least to those who live and work in the crowdfunding world - yet the audience paid rapt attention. The simple fact is that spreading the word of crowdfunding and its benefits and risks to a wider audience requires repetition of old truths. Nicola's dictum that fractional business ownership is nothing new – that's what share ownership is, after all – was widely re-tweeted, for example.
After each had outlined how their company operated in its relevant market niche, moderator Martin Baker, our communications director with nearly 30 years' experience as a print and broadcast journalist, got the panel to walk through the typical profile of small companies or projects that the various platforms could help. Risk-assessment techniques for equity and P2P commitments were discussed; the investability of the platforms themselves (are equity or P2P platforms good investments themselves?) was raised by one questioner; another wanted to know about compensation for a failed investment, and several other issues were touched on, albeit briefly, in the time available.
All in all, an enjoyable and enlightening time was had by all (It was. It was. It was.).

Our friends at CityA.M. report new figures from the P2P sector.
"Peer to peer lenders have grown their books by over £2bn since the start of 2016, with cumulative lending now topping £6.5bn.
"In the last quarter alone, peer to peer lenders have provided £700m of new funding according to the figures, which are prepared by the Peer to Peer Finance Association (P2PFA).
"'Data from the third quarter of 2016 highlights the strength of peer to peer lending in the UK, and underscore the value that this form of alternative finance is providing to the economy for borrowers – both businesses and consumer – as well as lenders. Peer to peer lending continues to deliver a competitive alternative to traditional lending,' said P2PFA chair Christine Farnish."

Read the basics on P2P lending by visiting our Knowledge Hub.
---
---