Digging Deep For SME Growth In Post-Brexit Britain

---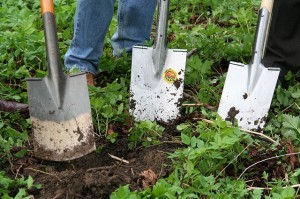 Just as we were once exhorted to Dig For Victory, it seems we're going to have to Dig Deep For Growth. Our friends at CityA.M. report on the Federation of Small Businesses' demands for its Small and Medium-Sized Enterprise members as Brexit approaches.

"The Federation of Small Businesses (FSB) wants the British Business Bank to be given extra resources to promote access for small firms and replace the functions of the European Investment Bank and European Investment Fund.
"The FSB also today warned that EU passporting rights for UK private equity and venture capital firms "must remain in place as part of a post-Brexit transitional arrangement to protect small firms from an access to finance cliff edge".
"'European investment in finance markets has been a crucial lifeline for small firms across the UK,' said FSB national chairman Mike Cherry."
We broadly agree with the FSB on this topic, but we are determined to knuckle down and play our part as a provider of "alternative finance" (ie, loans from individuals looking for a good return on capital) to carefully vetted businesses seeking funds for growth. Our borrowers, and SMEs in general, are going to need platforms like Money&Co.

Loan Latest & IFISA Offer
We currently have three offerings on site - an A+ and two A-rated loans. They are filling fast, and the loan with a specified end date for its auction is closing in a couple of days.
The ISA allowance for 2017/18 is increased from last tax year to £20,000, allowing a married couple to put £40,000 into a tax-free environment. Over three years, an investment of this scale in two Money&Co. Innovative Finance ISAs would generate £8,400 of income completely free of tax. We're assuming a 7 per cent return, net of charges and free of tax here. This return has been typical of our recent stream of A+ rated property-backed loans.
P2P & Risk
If you haven't made a loan via Money&Co. before, please read the risk warnings and the FAQ section. You may also wish to consult a financial adviser before making an investment.
---
---