Another New Loan Offer: Legal Publishers Take Five

---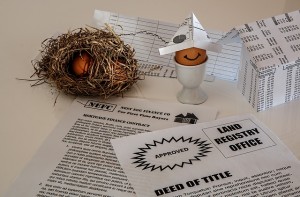 We're pleased to report the launch of a new A-rated loan offer on site. The company seeking funds for growth is a repeat borrower, seeking its fifth tranche of credit from Money&Co. lenders, who seem comfortable with the business model, and the company's thus far exemplary track record in servicing its debt.
Below, we offer an extended excerpt from the borrower's representations. For more detail, login or register.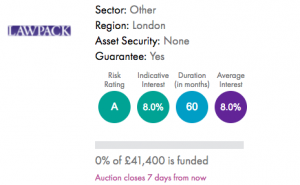 "[Lawpack] publish legal forms with guidance for self-completion, aimed at the consumer and small businesses. The forms and guidance are written and approved by leading barristers or solicitors.
"In 2014 Lawpack's largest customer used its buyer power to negotiate a lower price. The impact of this was to materially reduce gross and net margins. In order to combat this Lawpack undertook a full review of its cost structure and has been working to get its margins back up. Due to the time it has taken to put cost restructure into effect, cash was consumed by the business. Previous M&Co. loans to the business have helped to counteract this cash consumption and M&Co. agreed in principle to provide a further tranche of funds once the final draft 2017 accounts were available. These have now been provided and they further evidence that the business continues to reduce its costs. Lawpack wishes to pursue opportunities to expand sales and reduce reliance on its largest customer, and this loan will bolster Lawpack's working capital position as it undertakes this effort. This loan will rank equally with previous M&Co. loans."

Money&Co. P2P loan performance
Money&Co. is in the P2P business-lending sub-sector of crowdfunding. And is part of the fast-growing trend in crowdfunding loans. Money&Co. lenders have achieved returns of almost 9 per cent - before deduction of our one per cent fee - in the three years and nearly £10 million of loans facilitated on our platform.
In addition to new loan offerings, our secondary loan market, offering existing loans for sale by lenders, is available to registered Money&Co. users. All loans can be held, tax-free, in an Innovative Finance Individual Savings Account, or Innovative Finance ISA.
Risk
If you haven't made a loan via Money&Co. before, please read the risk warnings and the FAQ section. You may also wish to consult a financial adviser before making an investment. We have made best efforts to ensure the veracity of the borrower's representations, but cannot warrant their truth. Capital is at risk, once loaned.
---
---