FinTech's Push-Button Future Proposals – Thanks, But What About Privacy?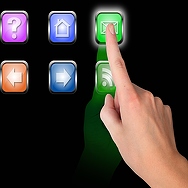 Getting everything done at the touch of a button sounds like a great idea. But what about privacy? Our friends at P2P Finance News report a fine-looking initiative from the UK government, which is definitely a friend of the financial-technology (FinTech) sector. But the Treasury's attempts to create a better environment for FinTech sound a couple of alarm bells in this office.
We run an excerpt from the news story below. What do you think?


"NEW LAWS coming into force in January will give consumers greater control over their bank data, the Treasury has announced.
"A new regulatory regime is to be introduced for fintech firms, which the government says will allow users to manage all of their finances at the touch of a button. Fintech firms will have the ability, at the request of the individual consumer, to access data from all of the person's bank accounts.
 "'Thanks to the changes we're making, new fintech firms can enter the market and offer innovative and transformative banking services that are tailored to meet people's needs,' said Stephen Barclay, economic secretary to the Treasury.
"'The changes stem from the EU's second Payment Services Directive, and the Treasury has suggested they will drive further innovation within the fintech market.
"This could include consumers having the ability to manage all of their accounts from a single app, helping people to budget more effectively and avoid unnecessary overdraft charges by moving money between accounts as and when needed.
"Some fintech firms have argued that they are already offering services like this.'"
Money&Co.'s latest loan offering is A-rated, and is over 37 per cent funded at the time of writing, with a current gross yield of over 8 per cent. The average return achieved by Money&Co. lenders is just over 9.18 per cent – before deduction of our one per cent fee – in the three years and nearly £10 million of loans facilitated on our platform. More new offerings will be announced shortly, with the next one now expected very soon indeed.
In addition to new loan offerings, our secondary loan market, offering existing loans for sale by lenders, is available to registered Money&Co. users. All loans can be held, tax-free, in an Innovative Finance Individual Savings Account, or Innovative Finance ISA.
Risk
If you haven't made a loan via Money&Co. before, please read the risk warnings and the FAQ section. You may also wish to consult a financial adviser before making an investment. Capital is at risk, once loaned.
---
---