Reasons To Be Fearful - And Cheerful!

---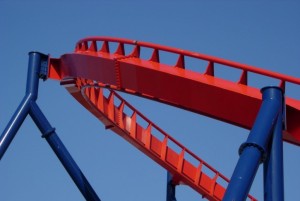 Let's start with the fear.
Equity crowdfunding can be a downright dangerous rollercoaster ride. The UK's financial watchdog recently gave a stark warning to anyone considering investing in equity crowdfunding, according to a report in the Financial Times (subscription may be required). The piece deals with crowdfunding sites that aim to attract direct equity investment from individuals in what are typically very young or start-up companies seeking to sell a stake in their businesses. The article quotes Julia Groves, chair of the UK Crowdfunding Association, as saying that "it is very likely that you will lose all your money".
The Financial Conduct Authority is portrayed as being critical of equity crowdfunders, who are cited as having done little to put people off. Ms Groves admits that the FCA's assessment is largely correct, and many such websites make it clear that up to 90 per cent of start-ups pitching for funds will fail.

The good news is that Money&Co. members have excellent reasons to be cheerful. "We are nothing like equity crowdfunders," says CEO Nicola Horlick. "We don't go in for risky equity investments. Instead, we facilitate loans to more mature business, ones that need credit to grow. They have to have an established trading record, with at least three years of filed and audited accounts – in practice this is often much more. On top of that, they have to be profitable. As an extra safeguard, we take a legal charge on the assets of the borrowing company. In the unlikely event that a borrower fail after passing our stringent creditworthiness checks, we would then exercise the right to acquire the assets, sell them, and give the money to Money&Co. lenders."
The real competition for Money&Co. loans is the fixed-rate deposit account market. Building Society Association figures show that £1.4 trillion or so is left on deposit in accounts where interest rates are often below one per cent.
Below we publish a news analysis piece we ran in the summer, which compares Money&Co. loans to bank deposits based on three criteria: security, access and yield.
Bank deposit accounts are protected by the Financial Services Compensation Scheme (FSCS) which safeguards deposits up to £85,000.
So are these accounts worth investing in? That very much depends on your individual circumstances and your preferences. Let's look at the issues, and compare these top savings accounts with what you get from lending through Money&Co..
Security - The extra security of the FSCS may be very attractive to some. The guarantor of up to £85,000 of deposit is effectively the UK government. Money&Co., while licensed as an independent financial adviser and answerable to the Financial Conduct Authority, does not offer such security. But we do ensure that a debenture, a legal charge, is taken on our borrowing companies' assets to protect our lenders. And of course our credit-analysis is very rigorous.
Access - Do you need access to your cash in the short term? If so, the fixed-term provisions of the deposit accounts may seem onerous. Money&Co.'s loans can be for as short a term as one year. Most are longer, with a maximum term of five years. But if you want to take your cash back early, you can do so using our recently launched auction market. This means that you can sell your loan at any time to another Money&Co. lender.
Yield – Deposit accounts are linked to long-term interest rates, which are a lot lower than the yields offered by our borrowers. Money&Co. has successfully hosted the funding of several companies rated a B+ risk, with loan yields of more than 8 per cent.
We are very proud of our credit-analysis process, but point out that there's no profit without risk. Find out more about lending here, and the credit-analysis process and associated risks are detailed here.
---
---