Policy, Regulation, Execution – Cambridge Alt Fi Survey Author Speaks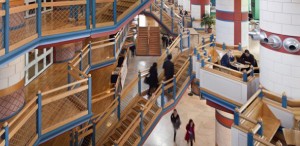 The reverberations of the pan-European report on alternative finance, co-authored by Cambridge Judge Business School, part of Cambridge University, and EY, the global consulting and accountancy organisation, are only just being felt. The report has been well-received across Europe, with extensive press coverage in the FT, Bloomberg, Le Monde, Les Echos, FD and Der Spiegel to name but a few.
There's simply been nothing like this report in terms of its reach, and its ambition. Last week, a few days ahead of publication, Money&Co. secured an interview with one of the authors of the report, and director of the newly launched Cambridge Centre for Alternative Finance at the Judge Business School, Bryan Zhang.

Here are some extracts from our conversation:
Money&Co: Just how far-reaching is the Alternative Finance Benchmarking Report?
Bryan Zhang: We have collected survey data from 255 platforms across 27 European countries. To obtain this comprehensive dataset , we have adopted a collaborative research strategy and worked with individual platforms and national/regional crowdfunding associations to on this benchmarking research.
M&C: It must have been tough to get that data, as many company guard it jealously for obvious competitive reasons.
BZ: It wasn't easy. You have to get the confidence of the platforms that you are asking survey questions for strictly academic purposes, and all data will be cleaned, anonymised and aggregated before any analysis is carried out .
M&C: We talk about "alternative" finance – but what does that mean?
BZ: By alternative finance, we include any forms of financial instruments and distribution channels that have emerged outside of the traditional financial system. For this benchmarking research, we focused on online platform-based transactions such as crowdfunding and peer-to-peer lending. In contrast to the traditional financial paradigm, transparency is the one of the key factors that differentiates alternative finance intermediaries from traditional financial institutions. I'd say alternative finance is opening up the way finance works – it's opening up the black box and replacing it with a glass box.
M&C: Turning to our own sector of the crowdfunding market, we've talked about the seemingly ever-changing names for debt crowdfunding on other occasions. Is what we do person-to-business, peer-to-peer business lending, or marketplace lending?
BZ: "Marketplace lending" is more commonly used in the United States, but it has failed to gain much traction here in the UK. I can see why some platforms might be cautious with the influx of the institutional funding. They see a risk of what they regard as over-institutionalisation, with the crowd being crowded out in some cases. However, other platforms do think institutional funding can be a helpful source of capital for the alternative finance market by enabling more and bigger deal flow to be funded in the marketplace, in turn, drawing the crowd in, specially through matched-funding mechanism for social and environmental lending.
M&C: What are your hopes for this survey?
BZ: The objective is to increase our understanding of the European alternative finance market, to inform policy-makers and regulators and help this still nascent industry to grow in a sustainable and healthy fashion.
To download the full report, click here.
*** Money&Co. is a peer-to-peer (P2P) business lender, otherwise known as a marketplace lender. We bring individual lenders together with carefully vetted borrower companies via our internet platform, a mechanism known as crowdfunding. Check out our loan market to buy loan and income streams form other registered lenders. Please bear in mind that marketplace lending carries risk with it. Please see our Home page and Frequently Asked Questions before committing capital. 
---
---