Latest Take On Equity Versus P2P Investment

---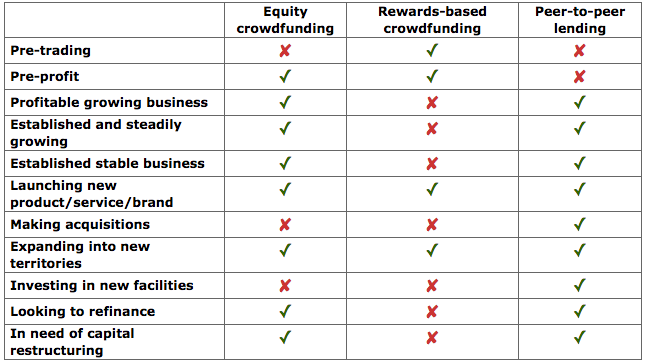 An updated consumer guide to equity crowdfunding from the European Commission offers some expert (yes, expert) commentary on the differences between equity and debt crowdfunding. As a specialist peer-to-peer (P2P) business lending platform, we are on the debt side of the fence. We strongly believe that equity and debt assets are not competitive. Which is right for you? It just depends what your needs as an investor are.
Here's an excerpt from a recent take on this issue, where Money&Co. argues the case for a balanced portfolio:
"Broadly speaking, peer-to-peer (P2P) business loans of the kind we facilitate here at Money&Co. are relatively low-risk (there are no bad debts in the nearly £10 million of loans we have so far facilitated). P2P loans, carefully vetted as ours are, are not as safe as low-yielding bank deposits, which are protected by the Financial Services Compensation scheme up to £75,000. P2P loans are made to mature, profitable companies. Whereas start-ups, the kind of businesses that qualify for Seed Enterprise Investment Scheme (SEIS) tax breaks, are much younger and riskier. Nevertheless, the tax breaks are attractive, and these assets could sit well with some boring P2P loans yielding 7.6 per cent (that's our lenders' average return here at Money&Co., net of our one per cent charge).'
And here's what our CEO, Nicola Horlick, said in City A.M. about the two categories:
"The risks to individuals investing in startups are considerable. Fifty per cent of UK startups fail and the FCA has warned that individuals investing in them through an equity crowdfunding site have a high probability of losing all of their money. This is not true of debt sites like mine. Companies that borrow money via Money&Co. must have a minimum of three years' filed accounts and must have been profitable in their last year of operation.
We take a first-ranking debenture over all of the assets of the company and any pre-existing secured debt must be discharged. We will allow a company to have a facility from an invoice discounter, however, as this is helpful to its cash flow. None of the companies that have borrowed via Money&Co. so far have missed a monthly repayment. It is inevitable that there will be some bad debts eventually, but we estimate that this will not exceed 1 per cent of monies lent."
---
---